Giraffe Macarons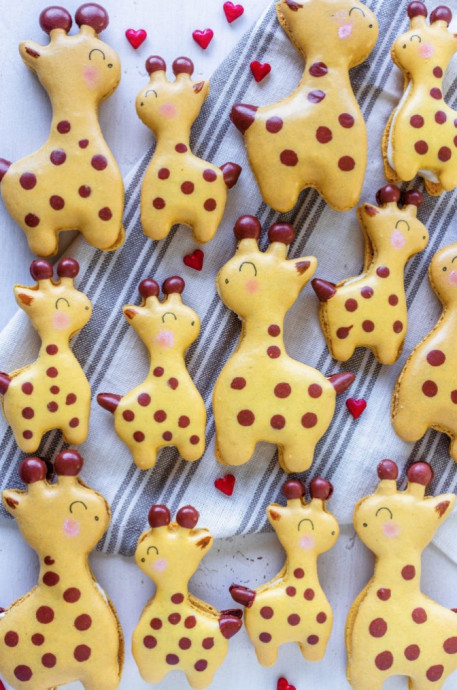 Today we are making Giraffe Macarons! Giraffes are my favorite animal ever! And I am also making these macarons as a tribute to Mother's Day! So I made a mama giraffe and a baby giraffe! How cute!
Piping the giraffes really isn't too hard. This shape is actually super easy and perfect for beginners, if you are just getting started with shapes.
The batter can't be under-mixed. If the batter is too thick, it will form streaks in the batter and the shell won't come out smooth.
Pipe one giraffe at a time. If you pipe the body of several giraffes at a time before popping the air bubbles, or before adding the brown spots, the batter may dry, and then the brown spots won't incorporate with the batter, or the shells will be bumpy if you try to smooth out a semi-dry batter as opposed to a "wet" freshly piped batter.
Constantly tap the trays against the counter or against the palm of your hand to release air bubbles, and most importantly, to help the batter smooth out.
Make sure the brown and yellow batters are connected at the spot where they meet, if the ossicones (the giraffes's horns) and the tails are not connected by a good amount of batter, they will break off after baking. So pipe the brown batter closely to the body, and also use a toothpick to spread the batter out.
Ingredients:
100 grams egg whites
100 grams granulated sugar
4 grams egg white powder optional read notes
105 grams almond flour
105 grams powdered sugar
2 grams cocoa powder
Yellow and brown food coloring
To decorate
Edible Marker
Brown food coloring plus water
Pink Luster Dust