Cranberry Jam Doughnuts With Spiced Orange Sugar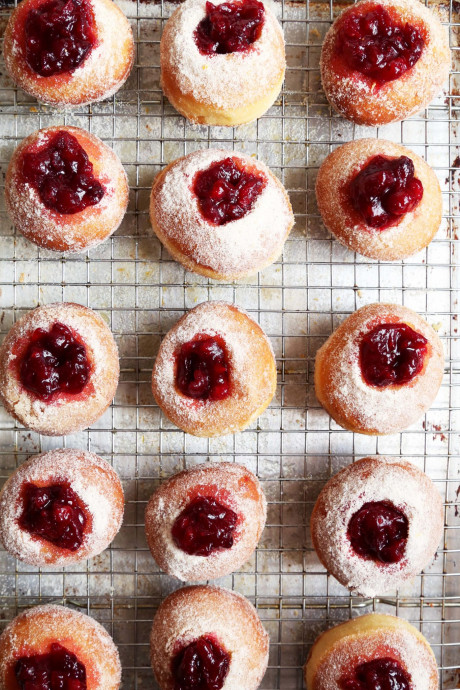 These doughnuts come together in three parts, but really – I promise, nothing is too complex: The doughnut dough is an everything-in-the-mixer kind of move after the yeast has been activated with a bit of warm water and a pinch of sugar. The cranberry sauce simmers on the stovetop with sugar, water and orange peel. The orange sugar, which includes bright orange zest and all sorts of cozy spies to coat the fried doughnuts. Enjoy as fresh as possible, as soon as you can hold them, and spoon cranberry sauce inside.
They'e best the day they're made, but that shouldn't be a problem because doughnuts, when they are present, are an exercise in being present.
Ingredients:
For the Doughnuts:
2 teaspoons warm water (about 105 degrees)
1 (¼-ounce) package active dry yeast (2¼ teaspoons)
3 1/2 to 3¾ cups all-purpose flour, plus more for rolling
1 cup whole milk, at room temperature
¼ cup (½ stick) unsalted butter, at room temperature
3 large egg yolks
2 tablespoons sugar
1½ teaspoon salt
¼ teaspoon ground cinnamon
6 cups vegetable oil, for frying
For the Cranberry Jam:
1 12-ounce bag fresh cranberries
1/2 cup granulated sugar
1/2 cup water
pinch of salt
2 orange peel slices
For the Orange Sugar:
1 1/2 cups granulated sugar
2 teaspoons orange zest
1 teaspoon ground cinnamon
1/2 teaspoon freshly grated nutmeg
1/4 teaspoon ground cloves
1/4 teaspoon ground allspice