Vegan Sloppy Joes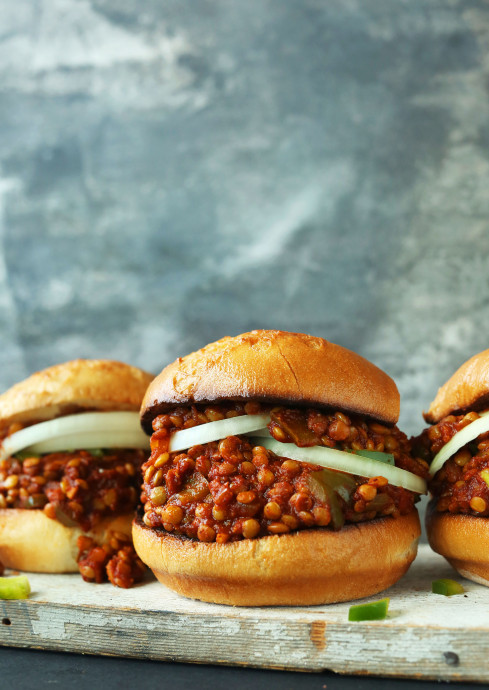 Did your parents ever make you sloppy joes growing up?
If so, welcome to the club.
If not, I'm sorry, you poor neglected soul. (Just kidding, but also kind of not kidding).
Sloppy joes are so delicious! And I haven't had them since my mom made them for me back in high school. My sister and I would return home from sports practice absolutely famished and we'd eat two open-faced sloppy joes with a side of mac 'n' cheese.
Oh, how my diet has changed since then! But my craving for this sweet, savory, smoky sandwich has not. Let's do this!This recipe comes together in roughly 30 minutes, including cooking your lentils! It's so simple and quick that it's sure to become a weeknight staple in your home.
The ingredients are also simple. In fact, the only thing not already in my pantry was Worcestershire sauce (I include a vegan-friendly brand recommendation below, as well as a recipe idea if you can't find any at the store).
Easy recipes that you can make with everyday pantry items – that's SO my thing.
Ingredients:
LENTILS
2 cups water (I used half water, half vegetable broth)
1 cup green or red lentils, well rinsed (red lentils for quicker/more tender result or green lentils for more bite/texture)
SLOPPY JOES
2 Tbsp olive or grape seed oil
1/2 medium white or yellow onion, minced (plus more for serving)
2 cloves garlic, minced (2 cloves yield ~1 Tbsp)
1/2 medium red or green bell pepper, diced
Sea salt and black pepper (to taste)
1 15-ounce can tomato sauce
1-2 Tbsp coconut sugar (plus more to taste)
1-2 Tbsp vegan-friendly Worcestershire sauce
1-2 tsp chili powder (plus more to taste)
1 tsp ground cumin (plus more to taste)
1 pinch smoked or regular paprika (optional)
FOR SERVING optional
Gluten-free or whole-wheat hamburger buns