Salted Chocolate Dipped Liege Waffles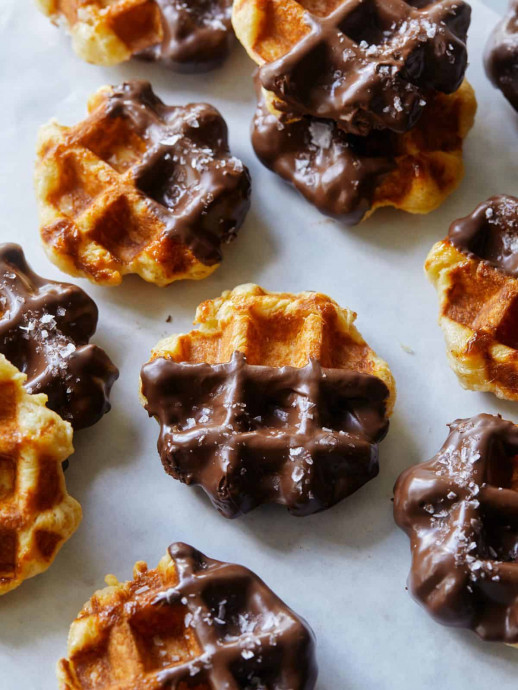 I feel like Belgium gets a little overlooked for countries like Italy and France (which are also amazing!), and it's kind of a bummer, because Belgium has so much to offer! Aside from the gorgeous architecture I feel in love with their waffles, specifically liege waffles. I honestly don't think I had had a liege waffle ever before and I couldn't believe what I was eating. The waffle was soft, dense, chewy, sweet….basically pure joy and unlike any other waffle I had in the past. It was one of the best sweet treats I've ever eaten in my life, really.
I came home just having to find or at least be able to make one of those delicious waffles, so I set out looking for one to buy. Turns out it was a little harder than I thought it would be, so I set out to make one instead. After a little bit of research I began testing my liege waffle recipe. After about a good month of testing, I landed on a version I was super happy with. I love the recipe so much that I decided I needed to make a variation. I probably ate a dozen of those waffles in Belgium and aside from the original version with a little whipped cream on top, one of my favorite versions was one I had dipped in dark chocolate. It was just so incredibly delicious and addicting, so today we have our own version of Salted Chocolate Dipped Liege Waffle. I added a lil' salt, because I love salty and sweet desserts, heavy on the salt please! I really hope you guys try this waffle out, it's just so incredibly good and not too hard to make. Plus, you can make the doughy batter ahead of time and refrigerate it for up to 2-3 days, before folding in the pearl sugar and cooing them up!
Ingredients:
⅓ cup lukewarm, whole milk water is fine
1 tablespoon plus 1 teaspoon light brown sugar
1 ½ teaspoons active dry yeast
1 ¼ cup white whole wheat flour
¼ teaspoon salt
2 large eggs, room temperature
¾ to 1 teaspoon vanilla extract
½ cup plus 2 tablespoons (1 ¼ sticks) unsalted butter, melted and cooled
⅔ cup Belgium pearl sugar
1 cup chopped dark chocolate
1 tablespoon sea salt flakes