Yogurt Marinated Chicken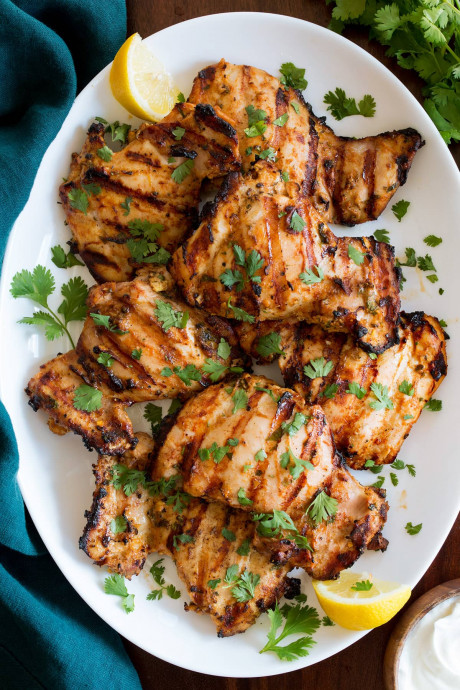 Easy Yogurt Marinated Chicken! Made with chicken thighs (or chicken breasts) that have been soaked in a Greek yogurt based marinade that's brimming with earthy spices, and a fresh lemon-herb flavor.
You can never have too many marinade recipes to really upgrade chicken. This middle eastern style chicken marinade is made with healthy ingredients that all come together so well.
It is one of my latest favorites with it's perfect blend of tang, well seasoned spice flavor, touch of garlic, and a final upgrade of cilantro.
As with just about any marinade, it's a cinch to prepare and it really takes plain chicken to a whole new level.
Perfect for a quick weeknight meal or a weekend family barbecue with all your favorite summer sides.
To keep the exterior of the chicken from drying out, you can baste with a little olive oil while cooking. If using chicken breasts, pound them to an even thickness before beginning, or if they are very large just slice in half through their thickness (reduce cook time as needed). Keep in mind cook times vary based on size of chicken pieces used, grill temp, outdoor temp, etc.
Ingredients:
2/3 cup whole milk Greek yogurt
2 Tbsp olive oil
2 Tbsp lemon juice + 1 tsp lemon zest
1 Tbsp minced garlic
1 Tbsp peeled and minced fresh ginger
1 tsp ground cumin
1 tsp ground coriander
1 tsp paprika
1/4 tsp cayenne pepper
1/4 tsp cinnamon
1 tsp salt and freshly ground black pepper (can adjust to taste)
1/4 cup chopped cilantro, plus more for serving
Chicken
2 1/4 lbs boneless skinless chicken thighs (about 7 thighs), or chicken breasts (about 5)