Migas Recipe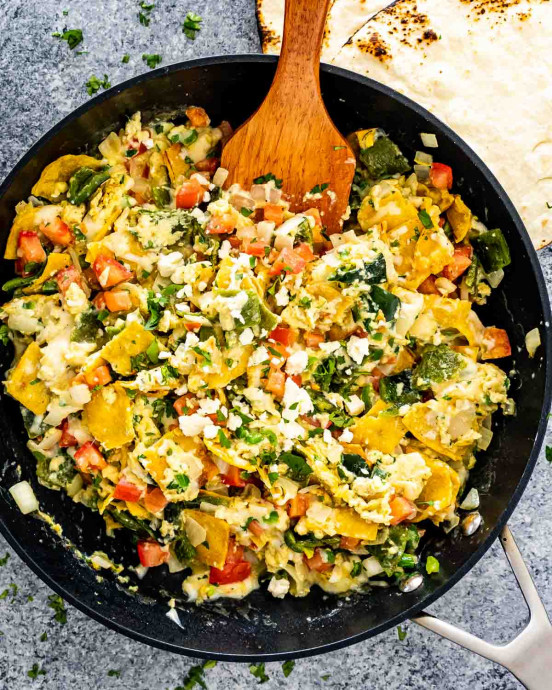 These Migas are made with crispy, homemade tortilla chips, fluffy scrambled eggs, roasted poblano peppers and lots of cheese. Serve this with some refried beans, straight out of the pan or in a tortilla, this dish is perfect for breakfast, lunch or dinner!
Migas are Spain's version of scrambled eggs complete with homemade, crispy tortilla chips, roasted poblano peppers, lots of cheese, some tomatoes and cilantro. The word "Migas" actually means "crumbs" or "scraps" because they are usually made with stale tortillas, eggs, salsa and some crumbly cheese.
Because it's called crumbs or scraps, you wouldn't think that this could be a delicious dish, but it really is. It has lots of great flavors in it, and you can make it as spicy as you like. The great thing about it is that you can eat it right from the skillet, or a plate if you want to be more civilized, or in a tortilla. Plus, the extra various toppings you can add over these migas makes this dish an absolute delight.
You can eat the meal as is or enhance it with some more flavors such as chopped red onions, salsa, extra cilantro, sliced avocado or even some extra peppers for some added crunchy texture.
Ingredients:
Tortilla Chips
3 tablespoons olive oil
8 corn tortillas cut into small pieces, or tortilla chips
Migas
1 large onion chopped
2 medium poblano peppers roasted, peeled and chopped or 2 cans diced green chilies
1 jalapeno seeded and chopped
6 large eggs
salt and pepper to taste
¼ cup water
2 cups Monterey Jack cheese shredded
2 large Roma tomatoes chopped
¼ cup cilantro chopped
¼ cup cotija cheese crumbled, or feta cheese