Stuffed Chicken Thighs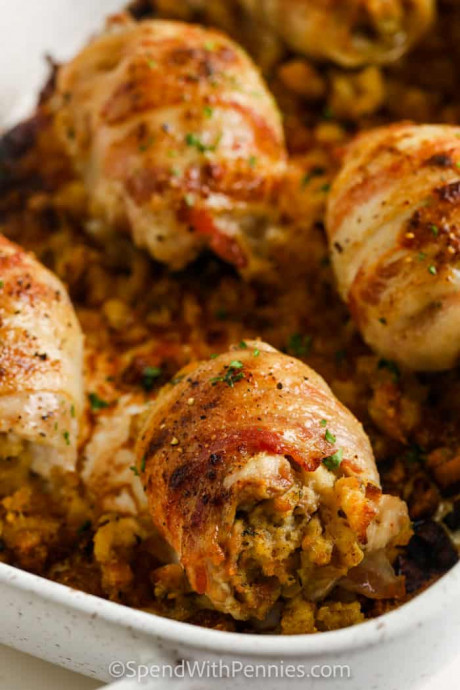 Easy stuffed chicken thighs are filled with stuffing, wrapped in bacon and baked until tender and juicy!
This recipe is versatile and can be made with chicken breasts and leftover stuffing or your favorite stuffing mix. This dish takes a little bit of prep but it's simple to make and has a cozy homemade flavor.
Chicken thighs are extra juicy and turn out perfectly every time (you can use chicken breasts too, see notes). This can be made with homemade stuffing or a box mix if you prefer. Add in your favorites from chopped spinach to mushrooms.
Extra stuffing can be added to the baking dish if you'd like. Be sure to preheat the oven so that the chicken cooks at the correct rate and temperature.
In a hurry? Place prepared stuffing mix in the freezer while getting the chicken and other ingredients laid out. This will cool it down in a hurry so that it's easy to work with. Alternatively, prepare the stuffing mix the day before. If it's hard to wrap the bacon around the chicken thighs, try securing the stuffed chicken with toothpicks. This will hold it together making it easier to wrap up—without losing any stuffing.
Ingredients:
1 package stuffing mix, 6 oz (or 1 ½ cups leftover homemade stuffing)
1 ½ pounds boneless chicken thighs approx 8 thighs
8 slices bacon
½ teaspoon garlic powder
½ teaspoon paprika
salt & pepper to taste