Kale Caesar Salad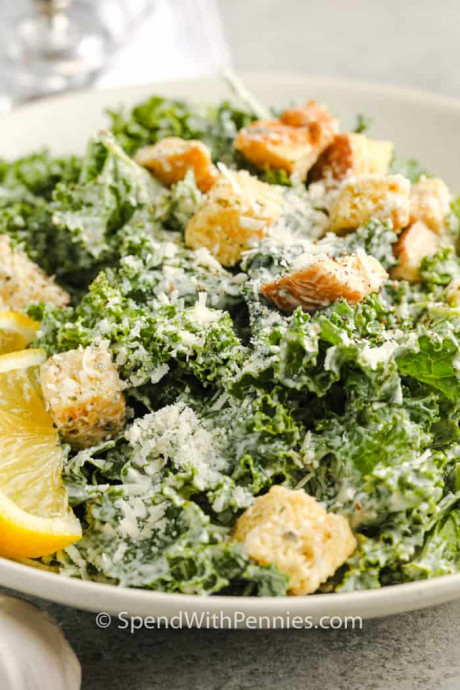 This delicious Kale Caesar Salad is rich and delicious with a shortcut dressing so good, you'll almost want to drink it!
Kale is a superfood packed full of flavor and nutrition, it only makes sense that it would be a good stand-in for the more traditional romaine lettuce. One thing I love about using kale in salads in place of lettuce is that leftover salad (even with dressing) will last a couple of days in the fridge! Just leave the croutons aside if you're making this ahead of time. TIP: Leave out the croutons for a low-carb version!
What's in a Kale Caesar Salad? VEGGIES Kale, of course, but feel free to add in some romaine or spinach as well. TOPPING/FILLING Bacon, croutons, and Parmesan are favorite topping ingredients for this crisp and crunchy salad. DRESSING The real star here is the creamy Caesar dressing! After rinsing and patting dry the kale leaves, gently "massage" each piece between your hands until the leaves are somewhat softened and a darker green. Be sure to cut the spine out of each leaf before tearing it into bite-sized pieces. Tender kale is the result, but it still has all the healthy benefits. Kale Caesar dressing will keep in the refrigerator for about 3-4 days.
Ingredients:
1 bunch kale washed, dried, and torn into bite-sized pieces
1 cup croutons store-bought or homemade
4 slices bacon cooked and crumbled
⅓ cup parmesan cheese shredded
Dressing
1 cup mayonnaise
¼ cup parmesan shredded
1 clove garlic
1 tablespoon lemon juice
1 tablespoon Worcestershire sauce
½ tablespoon dijon mustard
1 teaspoon anchovy paste* see note
fresh black pepper