The Best Broccoli Salad Recipe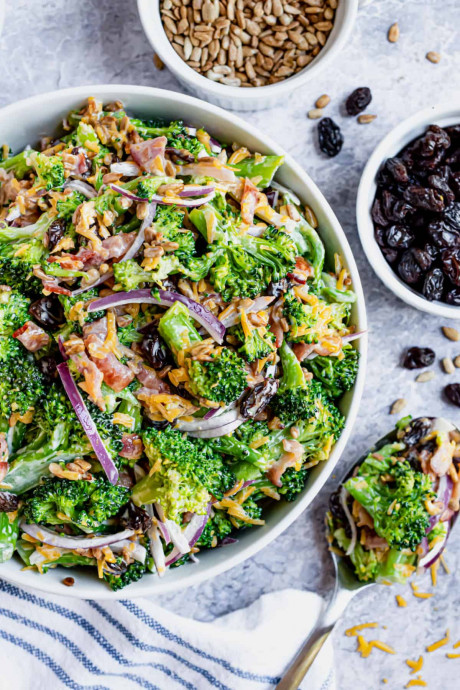 Every potluck needs a good Broccoli Salad–and this one is the BEST. With cheddar cheese, red onion, bacon and a sweet tangy dressing, this is the perfect easy side dish.
This broccoli salad recipe has crispy bacon and sunflower seeds! You'll love the added salty savory flavor they add to the vegetables. It's easy to make with fresh, simply ingredients.
Broccoli is par boiled then quickly cooled so it's tender but not mushy. The dressing is the perfect blend of creamy, tangy and sweet!
There are a million and one broccoli salad recipes out there. But none quite so perfect as this one! This salad can be made in advance and refrigerated for easy party prep!
Ingredients:
1 lb broccoli florets, cut bite size
⅓ cup red onion, cut in strips
1 cup shredded cheddar cheese
½ lb bacon, cooked and crumbled
½ cup raisins
⅓ cup sunflower seeds (no shells)
1 cup mayonnaise
2 Tablespoons apple cider vinegar
¼ cup granulated sugar