No Churn Chocolate Kit Kat Ice Cream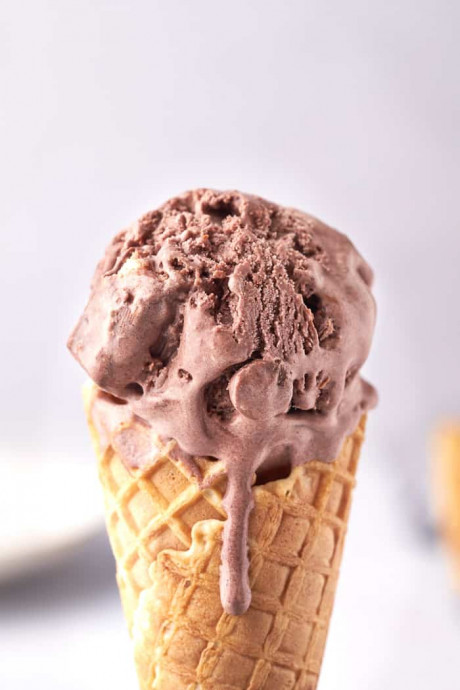 There are usually two types of Kit Kat people. The one's who savor every bite and the ones who just go for it! But what if we add a third category to such a childhood favorite? Allow me to introduce this No-Churn Chocolate Kit Kat Ice Cream. I bet you are trying to combine those two desserts in your head right now to picture how glorious this combination is. Crunchy wafers and smooth milk chocolate melt effortlessly with the heavy whipping cream and condensed milk to create the perfect summer snack.
As stated in the name, no-churn means no ice cream machine needed for this easy recipe. Just simply swirl the ingredients together at the end, freeze, and your refreshing treat is ready to eat. A similar recipe to try if you don't have an ice cream maker is No-Churn Coffee Caramel Ice Cream. Let's walk through the recipe! If you are not interested in the step-by-step pictures, just scroll to the end for the recipe.
Start by placing your electric beaters and a large bowl in the freezer for approximately 20 minutes. This step is super important to ensure the cream whips up perfectly. Make sure the heavy whipping cream is in the refrigerator until it is time to start mixing.
Grab a loaf pan or a glass bowl and line with parchment paper. The paper will prevent any scratching to the pan or bowl. Set this to the side till we are ready to freeze the No-Churn Chocolate Kit Kat Ice Cream.
Ingredients:
7 ounce Kit Kat bar, chopped
2 cups of heavy whipping cream
1/2 cup of unsweetened cocoa powder
14 ounces of sweetened condensed milk (1 can)
1 teaspoon of pure vanilla extract
⅓ cup of chocolate chips
1/4 cup of chocolate sauce for topping