Caramel Apple Gooey Bars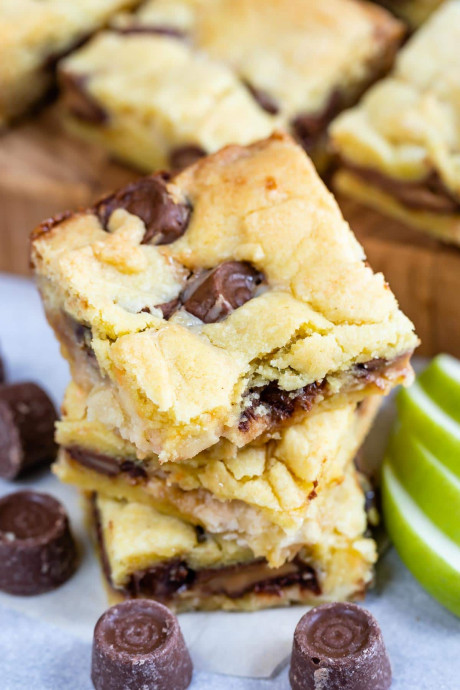 Apple Gooey Bars are the best dessert for fall! They are easy to make with cake mix, and each bite is loaded with apples and gooey Rolo caramel candy. If you love caramel apples, you will LOVE this easy gooey bar recipe. Gooey bars are just what they sound like: dessert bars that are ooey-gooey on the inside. They are one of my favorite dessert bars. What makes them "gooey" is sweetened condensed milk. Caramel apple gooey bars combine Rolos with apples and cake mix to make the perfect fall gooey bar recipe! What I love about this type of dessert bar is that the combinations are endless. I seriously can't stop thinking of combos. I mean, stand in the candy aisle at Walmart for a minute and just imagine.
This time it was the Rolos that inspired this newest creation. Rolos are amazing – caramel and chocolate. Two things that go so well with apple. I just can't. Get. Enough! Have fun experimenting with this Apple gooey bar recipe – any candy that goes with apples will work. So, think chopped peanut butter cups, mini Hershey bars, or try different baking chips like chocolate chips, white chocolate chips, butterscotch, or peanut butter chips. You can also add nuts like chopped walnuts or pecans.
These are the perfect way to use up those apples from the orchard and the perfect excuse to buy Rolos. Not that you really need an excuse. These suckers are good – the perfect fall gooey bar!
Ingredients:
1 (approx 15 ounce) yellow cake mix
1 large egg
½ cup (113g) unsalted butter , softened
½ teaspoon cinnamon
1 ½ cups (approx 180g) diced apples (Granny Smith)
30 (161g) Rolos , unwrapped
½ cup (4 ounces by volume) sweetened condensed milk