Red Devil's Food Cake With Vanilla Frosting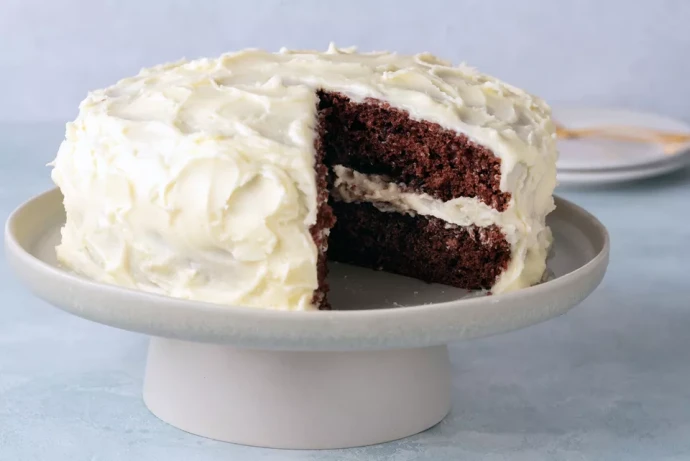 This classic red devil's food cake recipe is similar to red velvet cake. The two cakes both hail from the Victorian-era, have a chocolate base, and have a red hue. However, they differ in the type of cocoa powder that you use. Traditionally, a red devil's food cake is made with unsweetened, natural cocoa powder. Red velvet usually uses Dutch-processed cocoa powder, which is slightly different.
This cake is made with buttermilk and unsweetened cocoa with just a hint of red food coloring. Like most devil's food cakes, one of its distinctive ingredients is hot brewed coffee. It is an easy cake to prepare, and it comes out moist and delicious every time. If you do not have buttermilk, you can make your own substitute with regular milk. You will need to sour it with vinegar (sometimes lemon juice is used, too).
This recipe includes a vanilla frosting. You also can use store-bought frosting or another recipe for the frosting.
You can use two 8-inch round pans or go rectangular with a 9-inch by 13-inch baking pan (2-inches deep). A rectangular cake might take a few minutes longer to bake.
Ingredients:
1 1/2 cups granulated sugar
1/4 cup unsweetened cocoa powder
1/2 cup hot melted shortening
2 large eggs, beaten
1 teaspoon red food coloring
2 tablespoons hot brewed coffee
8 1/2 ounces (1 3/4 plus 2 tablespoons) all-purpose flour
1 teaspoon salt
1 teaspoon baking soda
2 teaspoons baking powder
1 cup buttermilk
1 teaspoon pure vanilla extract
3 cups confectioners' sugar
1/3 cup unsalted butter
1 1/2 teaspoons pure vanilla extract
1 to 2 tablespoons milk