Lentil Soup with Ham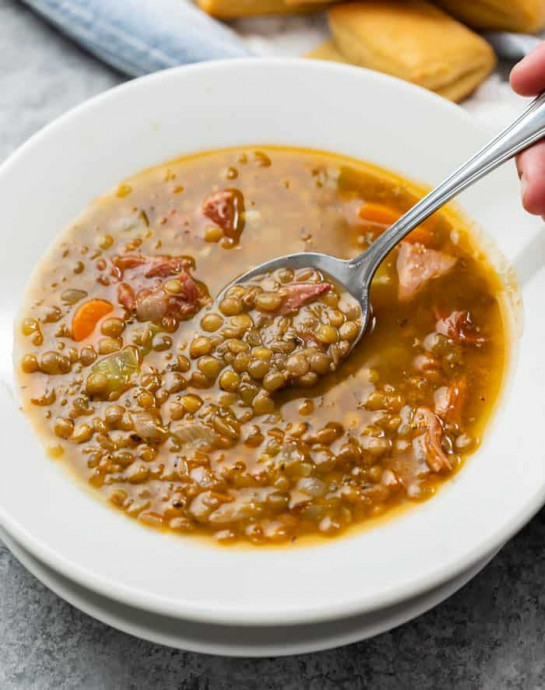 This traditional Lentil Soup with ham is so flavorful and easy to make! Use a ham bone for more hearty flavor or keep it simple. Optional additions include potatoes, spinach, sausage, and more!
I love making this with a big meaty ham bone and homemade chicken stock, but both are optional. Technically, you don't even need the ham, but it adds a lot of delicious flavor.
You can make this recipe in 55 minutes flat, or cook it low and slow with a ham bone all afternoon.
Ham bones add tremendous flavor to soup broths. If you have one on hand, follow these instructions for using it: Use an uncleaned ham bone. When you remove the bone from the soup at the end of cooking, use two forks to shred the delicious pink meat from it and add it to the soup. Use 3 cups chicken broth, 1 cup beef broth, and 3 cups water. Add everything to the pot except for the lentils. No need to soften the vegetables first. They float to the surface of the soup and cook/soften in the fat from the ham bone. Bring to a rapid boil, then decrease to a simmer. Simmer for as long as you can, at least 2-3 hours. The longer, the more flavorful your soup will be. Add the lentils during the last 45 minutes of cooking. Remove the ham bone, add in the ham, and serve. This traditional lentil soup recipe has perfectly cooked lentils along with vegetables and ham in a simple and flavorful broth.
Ingredients:
1 large onion, diced
1 cup carrots, diced
1/2 cup celery, diced
1 tablespoons olive oil
1 tablespoon butter
1 tablespoon garlic, minced
1 tablespoon tomato paste
1/2 cup diced ham
1 cup Lentils
5 cups chicken broth
2 cups beef broth
1/2 teaspoon dried thyme, or 2 sprigs fresh