Sesame Crusted Tofu Steaks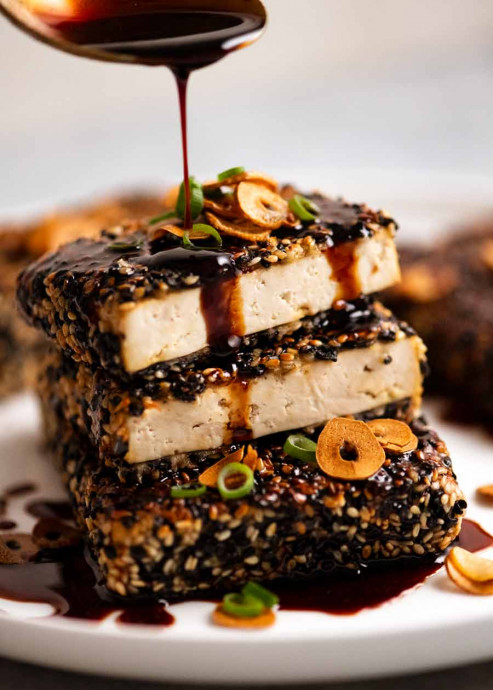 Here's a quick and easy way to transform tofu from boring to delicious: cut them into steaks and pan fry with a crispy sesame crust, then douse with Teriyaki Sauce. It's a recipe that'll change anybody's mind about tofu! Today then is a simple recipe designed to make the most of tofu. We cut the tofu into steaks, coat it with sesame seeds and then pan-fry until crispy. The crunchy sesame crust adds a stack of flavour itself, but also creates a coating that the Teriyaki Sauce clings to. You literally get a squirt of Teriyaki Sauce in your mouth with every bite – and we love it!
ofu is widely available these days. It comes in a broad range of textures and styles, from super-delicate, creamy, pudding-like versions which needs to be handled with extreme care, to firm and almost haloumi-like in texture.
To make tofu steaks, you need to use a firm tofu that is hard enough to be handled like steak. It must be able to be sliced, coated in sesame seeds and pan fried. It is sold labelled either as "firm tofu" or "hard tofu".
If the labels confuse you, it's easy to tell just by picking up the packet. If it feels firm enough to slice without worrying about the tofu crumbling, it will work just fine for this recipe.
Ingredients:
4 extra firm or hard tofu , cut into 10 x 5 x 1.5cm slices (4 x 2 x 0.6″), 100g / 3.5oz each (Note 1)
1/4 tsp each salt and pepper
2 tbsp flour , plain/all purpose
1 egg , lightly whisked
4 tbsp white sesame seeds (Note 2) (yes, you really need 4 tbsp!)
4 tbsp black sesame seeds (Note 2)
2 tbsp canola/vegetable oil
2 garlic cloves , finely sliced 1mm thick (optional, Note 2)
1 green onion , finely sliced (for garnish)
TERIYAKI SAUCE:
2 tbsp soy sauce , preferably Japanese all-purpose, else light soy sauce (Note 4)
2 tbsp mirin , preferably Japanese (Note 5)
2 tbsp cooking sake , preferably Japanese (Note 6)
2 tbsp water