Caramel Apple Pie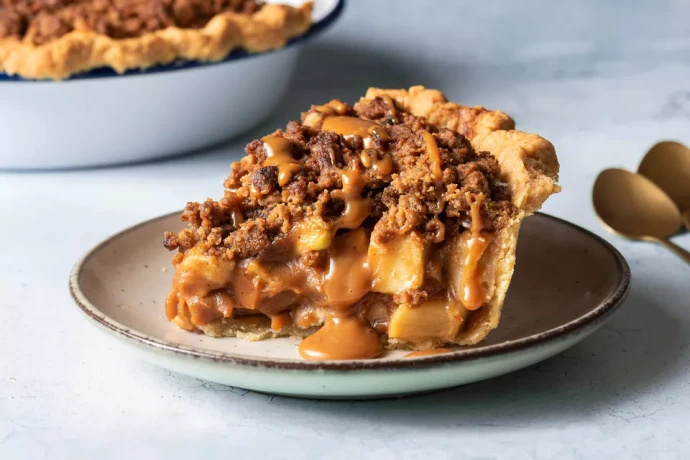 Apple pie isn't just about that warm slice piled high with freshly whipped cream during the holidays. It's about the intoxicating spices that fill the air as it bakes in the oven. It's about that bite you sneak for breakfast the next morning. It's all the memories shared around it.
This version takes the classic and makes it even more tantalizing with a salty, sweet caramel that oozes out of each bite. We top it all off with a buttery crumble much like the traditional Dutch apple pie. The flaky crust comes together in no time, but if you want to make your life easier, use a store-bought crust. You can also use a store-bought caramel sauce if you're looking to save time.
Serve this pie warm with a scoop of vanilla ice cream or homemade whipped cream. You can even make the pie ahead of time and serve it chilled. It's a great dessert for Thanksgiving or just a nice slow Sunday evening.
Ingredients:
For the Crust
1 1/2 cups all-purpose flour
1/2 teaspoon kosher salt
9 tablespoons unsalted butter, cold, cubed
1/3 cup ice water
For the Salted Caramel
1 cup granulated sugar
1/4 cup water
6 tablespoons unsalted butter
1/2 cup heavy cream
3/4 teaspoon kosher salt
1/4 teaspoon vanilla
For the Filling
3 pounds baking apples, about 6 (any combination of Granny Smith, Honeycrisp, Pink Lady, or Braeburn)
3/4 cup prepared caramel
1/2 cup all-purpose flour (or cornstarch)
2 tablespoons lemon juice
1/4 cup packed brown sugar
1 teaspoon cinnamon
1/2 teaspoon ground ginger
1/4 teaspoon ground nutmeg
1/4 teaspoon kosher salt
2 tablespoons unsalted butter
1 teaspoon vanilla extract
For the Crumble
1 cup all-purpose flour
1/2 cup packed brown sugar
1 teaspoon cinnamon
1/4 teaspoon kosher salt
6 tablespoons unsalted butter, melted