Beef Stroganoff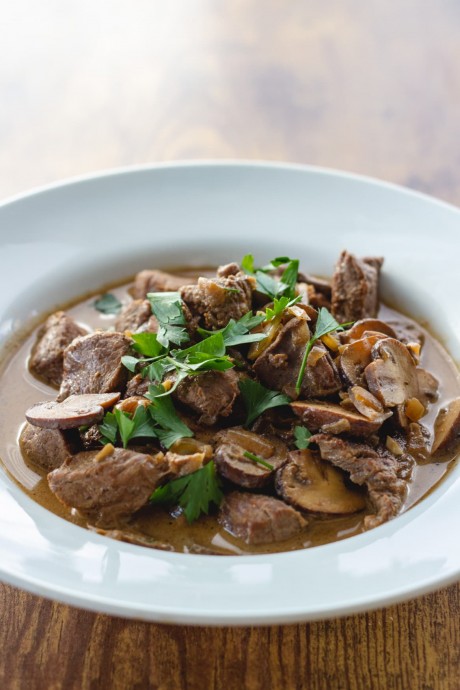 The rich flavor comes from slow simmering over several hours to let all the flavors combine and the beef to become tender. This is why it's a great all day endeavor. The longer the better.
You could certainly use a slow cooker if it's more convenient but I like to use an uncovered sauté pan. This way I can brown the meat before hand and reduce the broth to enhance the flavors. If you do decide to use a slow cooker I would recommend at least browning your meat before adding it to the slow cooker.
The meal has plenty of flavor and doesn't really need anything extra, but you could use "zoodles" or low carb pasta if you like . I'm just happy with a simple bowl of meat and mushrooms. Nothing more, nothing less. I slow cook a big batch of it on the weekends and get to enjoy it for lunches throughout the week. This keto beef stroganoff makes me all warm and fuzzy inside.
Ingredients:
2 lbs stew beef
1 tbsp paprika
1 tbsp garlic powder
1 tbsp onion powder
2 cups crimini mushrooms
1 large yellow onion chopped finely
4-5 cloves garlic chopped finely
2 tbsp tomato paste
2 tbsp Dijon mustard
1/2 tsp nutmeg
1 cup white wine optional
4 cups low sodium beef broth
1 cup sour cream
5 tbsp butter
1/2 lemon
1 bunch Italian parsley for garnish optional
Salt & Pepper