Pork Dumplings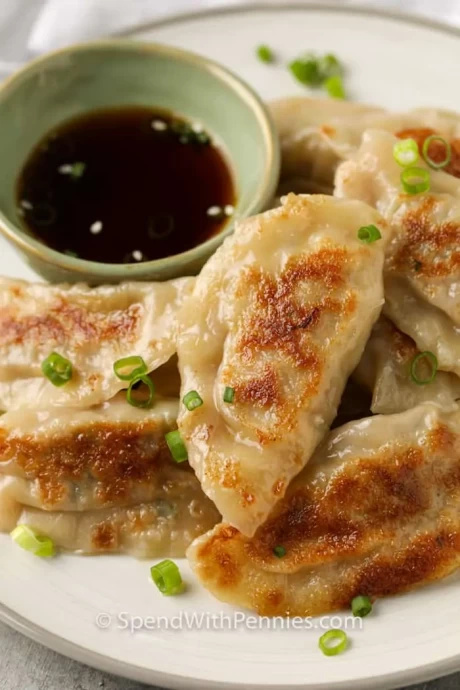 This recipe uses simple ingredients with heaps of flavor! Simply mix the filling, wrap them up, pan-fry and enjoy!
Dumplings can seem intimidating but they aren't difficult to make. I admit they do take a bit of time to make (like wonton soup or any kind of filled dumpling really) but following the steps below anyone can do it!
These really are the best dumplings without a huge list of fussy ingredients (most are things you know)! No need to buy packages of things you'll never use again.
Fresh ginger adds lots of flavors while ground pork flavorful adding just the right amount of moisture to the mixture. Customize the filling with whatever you'd like!
Ingredients:
30 dumpling wrappers
1 tablespoon vegetable oil
½ cup water
3 cups napa cabbage finely shredded
½ teaspoon salt
8 ounces ground pork
1 tablespoon soy sauce
2 teaspoons toasted sesame oil
2 teaspoons rice wine
1 tablespoon fresh ginger grated
4 green onions very finely chopped
½ teaspoon pepper