Classic Kosher Potato Kugel Recipe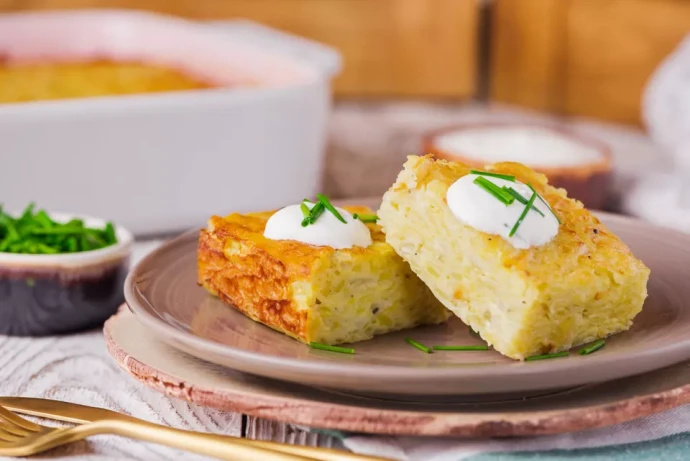 This kosher recipe for dairy-free (pareve) potato kugel made with potatoes, onions, and eggs is a classic. It can be eaten with a meat or dairy meal. Potato kugel is a staple Shabbat and holiday dish in Eastern European (Ashkenazi) Jewish cooking. It's sometimes called potato pudding, as kugel is Yiddish for pudding.
The best potato kugels are tender on the inside, crispy on the outside, and make the perfect side dish for roast chicken or brisket. There are lots of delicious variations on the classic potato kugel, some of which include carrots, zucchini, garlic, or a host of other vegetables. Many kugels are made with noodles, e.g., noodle kugel. But for many people, nothing beats a kugel like this one, made simply with russet potatoes, onions, and eggs. Purely vegetarian or vegan options are easy, too.
If you've never had it before, kugel may seem confusing if you've never had it before, because it can be made sweet or savory, leading you to wonder if it's a side dish or dessert (it's the former). Additionally, many enthusiasts will argue it's equally delicious served hot, warm, or cold, but that's up to you. Regardless, this recipe shows potatoes, eggs, and onions at their very best for a satisfying casserole dish.
Ingredients:
8 medium potatoes
2 medium onions
6 large eggs
1/2 cup vegetable oil
1/4 cup all-purpose flour
1 heaping tablespoon salt
1/2 to 1 teaspoon freshly ground black pepper
Sour cream, for garnish, optional
Chives, for garnish