Cookies and Cream Energy Bites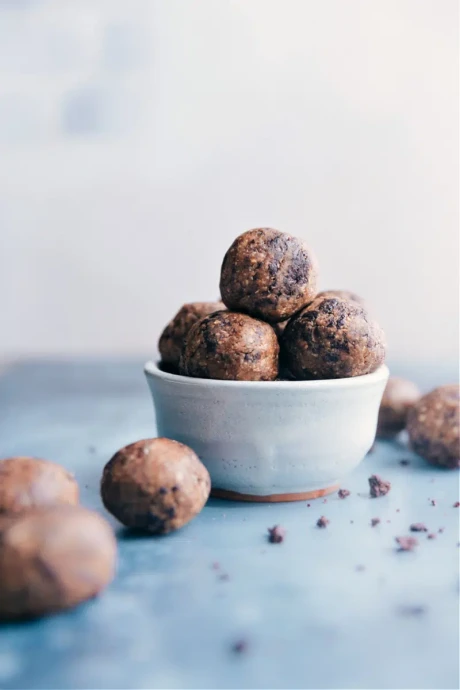 Cookies and Cream Energy Bites are our latest obsession! America's favorite cookie (Oreos®) in a more nutritious way? Heck yes! We make faux (more nutritious) "Oreo" cookie crumbs and mix them into an energy ball for a healthful snack that everyone will go crazy for!
This Cookies and Cream Energy Bites recipe is a BONUS recipe as part of our Back-To-School Lifesavers — a series of recipes that are intended to have little (or no) veggie chopping, minimal prep time, around 10 ingredients or less (not including pantry staples), and use kid-friendly ingredients. This (obviously) isn't a dinner recipe, but a fun back-to-school snack or addition to a balanced breakfast.
For gluten-free Cookies and Cream Energy Balls: While the ingredients in these balls are naturally gluten-free, make sure to check all the ingredient labels to verify they weren't processed in a facility with gluten.
Ingredients:
3 tablespoons (22g) oat flour (blended up oats!) Note 1
2 tablespoons (12g) dark/dutch-processed cocoa powder Note 2
2 tablespoons (29g) light brown sugar OR coconut sugar
1/8 teaspoon (22g) fine sea salt
1 tablespoon + 1 teaspoon coconut oil (measured when solid)
Energy Bites
2 cups (200g) old-fashioned oats
2 cups (115g) unsweetened shredded coconut
3/4 cup (165g) cashew butter creamy, lightly salted Note 3
1/2 cup (164g) pure maple syrup Note 4
1 teaspoon pure vanilla extract
1/2 teaspoon fine sea salt Note 5
3/4 cup (120g) dark chocolate chips