Jamaican Beef Patties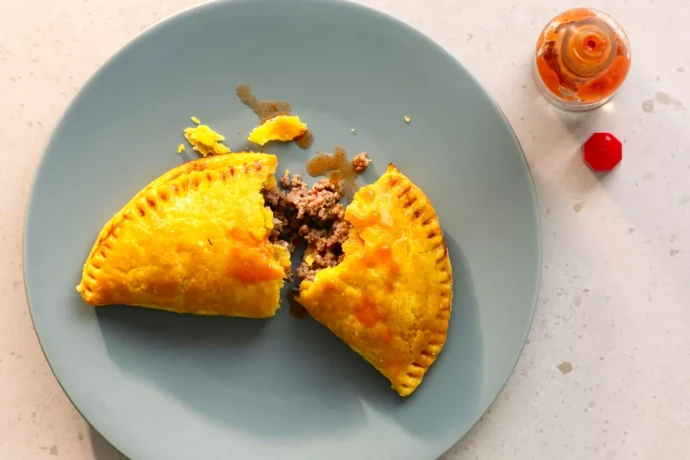 Jamaican beef patties are a classic comfort food found in many varieties—everywhere on the island in food shacks, snackettes, and canteens—very similar in shape and color but with different fillings. Our recipe for these flavorful bites, comparable to an empanada, is the classic formula of a flaky pastry filled with fragrant seasoned beef.
These pastries arrived in the U.K and in the U.S with Jamaican immigrants and were quickly adapted to the ingredients at hand to the delight of locals. The traditional preparation survives, having been passed on from one generation to the next. While beef is the utmost classic, there are patties stuffed with chicken, cheese, pork, lamb, seafood, or ackee.
Make this delicious Jamaican treat and serve it as a snack or light dinner. Although a little spicy, you can adjust the flavors to suit your palate, adding more or less spice depending on your preference. To serve, try the Jamaican way, carb-loading your meal by sandwiching a patty in coco bread—a yeasted bun that contains no cocoa or coconut despite its name. Serve with hot sauce on the side and wash it down with an ice-cold beer or a cold fruit drink.
Ingredients:
For the Pastry Dough:
4 cups all-purpose flour
1 teaspoon ground turmeric (or curry powder)
1 teaspoon kosher salt
1 1/4 cups cold vegetable shortening
1 cup ice-cold water, more if needed
For the Filling:
2 pounds ground beef
1/2 teaspoon freshly ground black pepper
1 teaspoon ground allspice
2 tablespoons vegetable oil
1 cup diced onions
Minced chile pepper, to taste, optional
2 teaspoons minced garlic
1 tablespoon fresh thyme, minced
Kosher salt, to taste
2 tablespoons ketchup
2 cups water
1/2 cup thinly sliced green onions, white and green parts
For the Assembly:
All-purpose flour, for the work surface
1/4 cup, plus 1 tablespoon water, divided
1 large egg