Shrimp Étouffée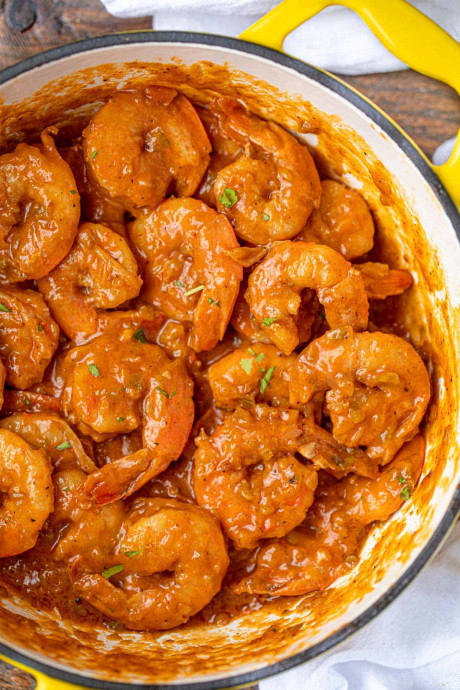 Shrimp Étouffée is a Cajun dish loaded with bold flavors, cooked in butter and the holy trinity vegetables over rice that's ready in just 30 minutes! I've heard Shrimp Étouffée described as "edible jazz," and that description is pretty apt. Just like jazz, Étouffée combines a little bit of style from multiple genres and blends them together to make a tasty, vibrant medley.
Shrimp Étouffée is a blend of vegetables cooked in a thick tomato sauce. A great dish for weeknights, it keeps really well in the fridge for leftovers and tastes even better the next day.
VARIATIONS
Crawfish: if you want to be really authentic, substitute the shrimp and make crawfish étouffée. I promise, you have never tasted anything like it.
Green onions: if you want a slightly different texture, chop up some green onions instead of a yellow onion.
Diced tomatoes: to make more sauce without thickening it up too much, add in a can of diced tomatoes and stir well.
Hot: if you want your étouffée to cook your taste buds on high heat, chop up your choice of hot pepper and add it in to the pot. Remember, the later you add the peppers the hotter they will be, since heat destroys capsaicin, the chemical in peppers that makes it feel like your face is melting. You can also hit it with a dash of paprika for a rush of flavor.
Ingredients:
8 tablespoons unsalted butter
4 tablespoons olive oil
1 yellow onion , chopped finely
1 green bell pepper , chopped finely
4 stalks celery . chopped finely
3 cloves garlic . chopped finely
1/4 cup flour
1/4 cup tomato paste
2 teaspoons hot sauce
2 cups water
1 teaspoon kosher salt
1/4 teaspoon coarse ground black pepper
2 tablespoons Cajun seasoning
2 pounds shrimp , peeled and deveined (13-15 count)