Honey Prawns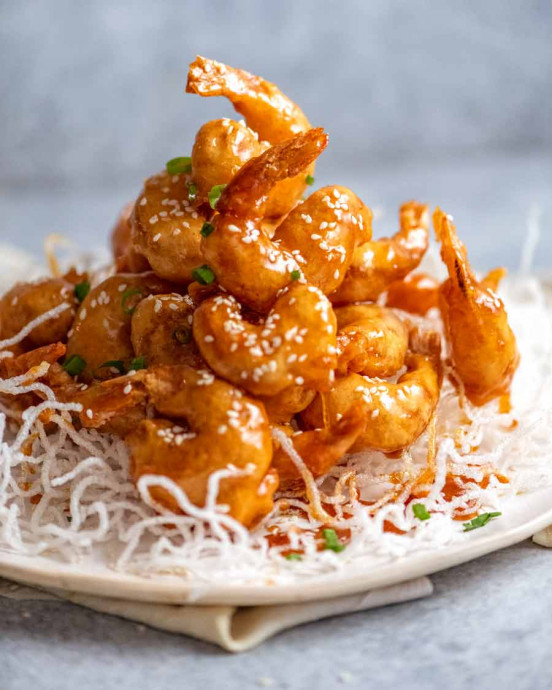 This is a recipe for Honey Prawns, old-school Chinese restaurant-style. The batter coating is a proven secret weapon I use for Honey Chicken that stays crispy for hours, even after tossing with the honey sauce!
The trick? Ice cold soda water for one. Also, cornflour plus flour. Finally a double-fry, fast becoming the worst-kept cooking secret to less greasy fried foods that stay crispy for hours!Honey Prawns are a much-loved favourite at suburban Chinese restaurants and takeaway joints across Australia. Plump, snappy prawns are battered and fried until crisp, then tossed in a sweet and sticky honey sauce – those words alone will have anybody drooling!
As irresistible as they are, for me Honey Prawns at most restaurants suffer one glaring defect: they don't stay crispy for long! Once the honey sauce hits that crispy exterior, it's an express ride to Soggy Town! The simplest answer to this problem is of course to gobble fresh Honey Prawns down as soon as they hit the table. I heartily endorse this solution. But that aside … can we do better?
Yes we can! Thanks to a trio of little tricks I employ, these Honey Prawns will stay crisp for not just a few minutes … or even hours …. or overnight … but you can even reheat them the next day to near freshly-cooked, crispy perfection!
Sound too good to be true? Read on and become a believer in the miracle of Stay-Crispy Honey Prawns!
Ingredients:
300g/ 10oz prawns/shrimp , peeled with tail on (600g/1.2lb whole unpeeled)
1/2 tsp kosher/cooking salt (halve for table salt)
1/2 cup cornflour/cornstarch
9 tbsp cornflour/cornstarch
6 tbsp flour , plain/all-purpose
2/3 cup + 1 tbsp COLD soda water, club soda or seltzer water
1/2 tsp baking powder
1/2 tsp salt , kosher/cooking (halve for table salt)
3 – 4 cups vegetable or canola oil (~4cm / 1.5" depth in a pot)
1/3 cup (100g) honey
1.5 tbsp (25g) glucose OR corn syrup (light)
1 tbsp light soy sauce (or all-purpose)
2 tsp Chinese cooking wine (or mirin)
25g / 2 oz Vermicelli rice noodles (optional) , a wad of it (not mung bean noodles, it must be rice noodles)
Sesame seeds, finely sliced green onions