Roasted Cauliflower Soup with Grilled Cheese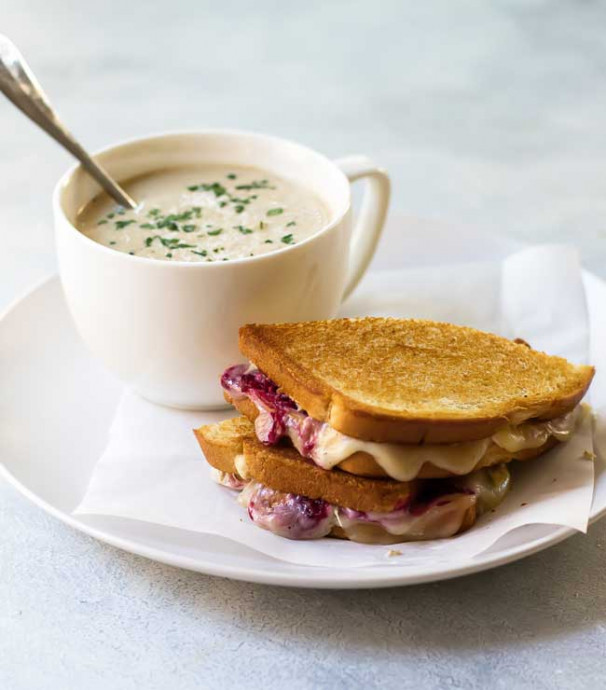 This creamy roasted cauliflower soup with a cranberry turkey grilled cheese is like Thanksgiving dinner served up soup and sandwich-style. Soup is one of my favorite ways to get my cozy on, but add a grilled cheese sandwich and I'm in comfort food heaven. With this soup and sandwich combo you get all the comforting goodness of Thanksgiving, also known as the comfort food Olympics, but it's way easier to make and you don't have to wait until November. This roasted cauliflower soup and cranberry turkey grilled cheese for two is on call whenever you want some comfort, no matter the time of year.
The recipe starts with the roasted cauliflower soup. I love to roast cauliflower because the flavor is mild and it goes with lots of different flavors. Roasting it brings out it's subtle nutty flavor and it has a touch of sweetness from the caramelization. This roasted cauliflower soup is a small-batch recipe and makes just enough for two people.
Break a small head of cauliflower into florets and spread them into an even layer on a baking sheet.
Drizzle some olive oil over the top and season the florets with salt and pepper.
Roast the cauliflower at 400°F for 15 minutes, flip the cauliflower over and roast them for 15 minutes more or until they're caramelized and tender.
Ingredients:
1 (10-oz [284 g]) head of cauliflower, broken into 1″ (2.5-cm) florets
1 1/2 tbsp (22 ml) olive oil, divided
2 tsp (10 g) kosher salt, divided
1/2 cup (76 g) chopped onion
2 tsp (6 g) chopped garlic
1/2 tsp dried oregano
2 1/2 cups (592 ml) vegetable stock
Juice from 1/2 a lemon
1/3 cup heavy cream
1 tsp chopped fresh parsley, for garnish
For the Grilled Cheese
1/2 cup (50 g) frozen cranberries
Juice from 1/2 a lemon
1 tbsp (15 ml) honey
2 tbsp (28 g) mayonnaise
2 tsp (10 g) Dijon mustard
4 slices country white bread
4 oz (115 g) thin-sliced deli turkey
4 slices Swiss cheese
2 tbsp (28 g) butter