Cabbage Roll Soup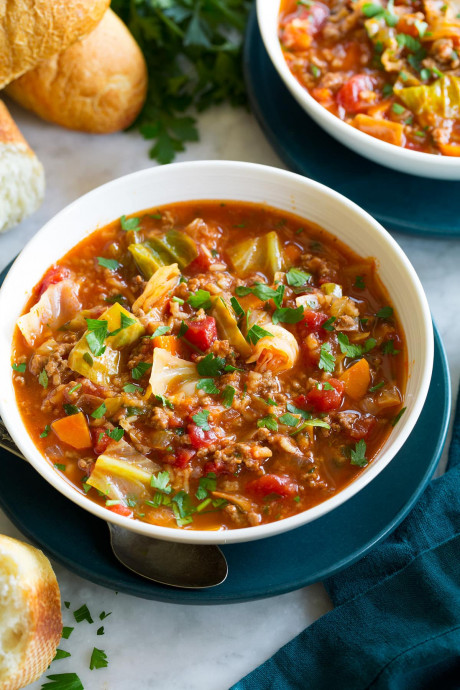 The best Cabbage Roll Soup recipe! You get all the flavors of cabbage rolls with out all the hassle, it's easy to make and deliciously flavorful. A tasty new recipe to add to the dinner rotation!
This Cabbage Roll Soup is so much faster than making traditional cabbage rolls yet it tastes just as good! It's a hassle-free, cooked in one pot recipe!
You have a quick prep of ingredients, veggies are sauteed, then everything is just simmered until the cabbage and rice are tender. And during that time all those delicious herby, beefy, tomato-y flavors meld together perfectly.
It's a soup that is made with basic ingredients, it's incredibly hearty, and I think you'll agree it's just super satisfying comfort food. It's made up of an abundance of veggies, the rice will help fill you up, and you get a fair amount of protein from the beef so it's an all around win!
Ingredients
1 Tbsp olive oil
1 1/2 lbs lean ground beef
Salt and freshly ground black pepper
1 large yellow onion , chopped (1 3/4 cups)
2 large carrots , chopped (1 1/4 cups)
5 cups packed chopped cabbage (16 - 19 oz)
3 cloves garlic, minced
4 cups low-sodium beef broth, then more to thin if desired
3 (8 oz) cans tomato sauce
2 (14.5 oz) cans petite diced tomatoes
1 Tbsp* packed light brown sugar
1 Tbsp Worcestershire sauce
1 1/2 tsp dried paprika
1 tsp dried oregano or 1 Tbsp chopped fresh
3/4 tsp dried thyme or 2 1/2 tsp chopped fresh
2 bay leaves
3/4 cup dry long-grain white rice
1 Tbsp fresh lemon juice
1/3 cup chopped fresh parsley