Cajun Shrimp Sweet Potato Bites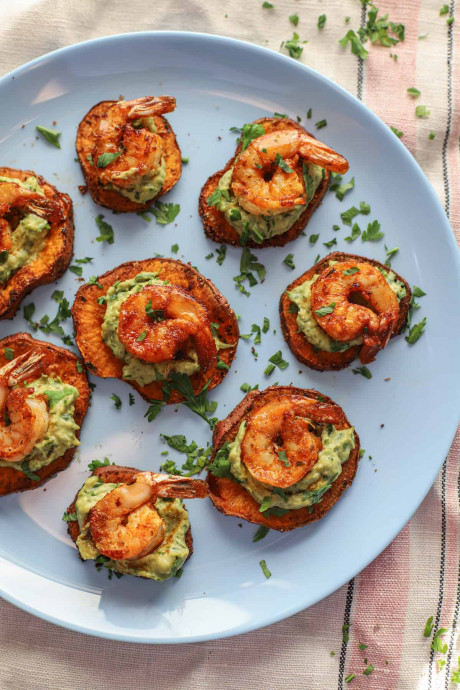 Tender shrimp are pan-fried in a spicy Cajun seasoning, then served on top of creamy guacamole and crispy sweet potato fries. Level up your appetizer game with these easy Cajun Shrimp Sweet Potato Bites! Every year we throw a Super Bowl party, and every year I look forward to it. Not only because it's the Super Bowl and I love football, or the funny commercials, or the awesome half time shows… it's all about the food, baby. And because I'm a food blogger, people come to the party with expectations, whether they say it or not. NO pressure!
Let me just say, these Cajun shrimp bites did not disappoint. I'm glad I listened to my husband when he encouraged me to serve them. Everyone raved about them, and I knew I exceeded their high expectations. Score! I may just have to serve them again next year since I know they're such a big hit.
These seafood starters are basically a combination of crispy sweet potato fries, shrimp cocktail and guacamole. The guacamole has a few surprise ingredients that make it taste more like an avocado had a baby with chimichurri sauce. It goes so well with the spicy shrimp and the crispy sweet potato. Try not to eat all the components before assembly like I did!
Ingredients:
For the Sweet Potato Fries
1 sweet potatoes, sliced in 1/4″ slices
2 tablespoons olive oil
salt to season
For the Guacamole
4 small avocados
1/2 cup cilantro
juice of 1 lime (about 2–3 tablespoons)
1 1/2 tablespoons red wine vinegar
1/2 teaspoon red pepper flakes
salt to taste
For the Cajun Shrimp
1lb. large raw shrimp, peel and deveined
1/2 teaspoon smoked paprika
1/2 teaspoon ground cumin
1/2 teaspoon sea salt
1/4 teaspoon chipotle chili powder
1 tablespoon olive oil