Baked Chicken Tenders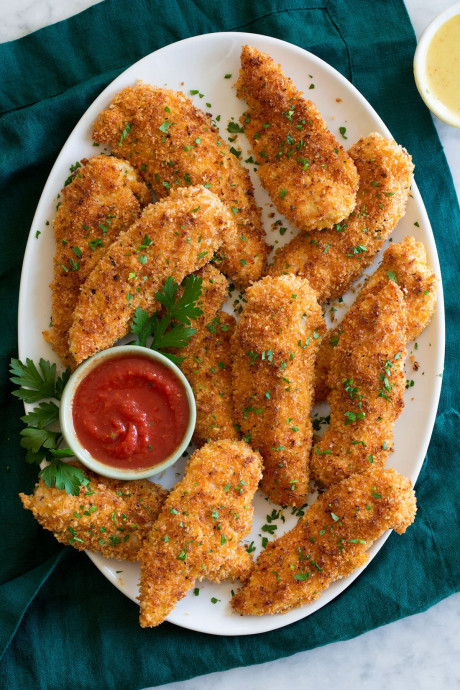 Crispy Oven Baked Chicken Tenders! Made with strips of chicken tenders, parmesan and an herb and spice seasoned panko bread crumb finish. No deep frying yet they're still absolutely delicious!
With this recipe you just follow a standard breading process. Dip chicken tenders in flour, egg, and then panko bread crumbs. Then instead of frying in a pan in oil, they are baked in a hot oven over a wire rack until golden brown and cooked through.
So we skip the vegetable oil and just use a little olive oil to add some flavor and encourage browning. Then the real game changer is the parmesan. It gives them a delicious boost of flavor.
People of all ages will love these simple baked chicken tenders! They're easy to make and perfect for dipping. If preferred, you could fry the chicken tenders (instead of baking) in a skillet with 1/2 cup of olive oil until cooked through on both sides. Cook in batches to not overcrowd and cook over medium heat.
Use 1/2 tsp each basil and oregano if you don't have Italian seasoning.
For more intense garlic flour use 1 Tbsp minced garlic (add to the panko) rather than using garlic powder.
Make them spicy by adding 1/2 tsp cayenne pepper.
Add a citrus flavor by seasoning (panko) with the zest of two lemons.
Ingredients:
1/3 cup all-purpose flour
2 large eggs
1 1/3 cups panko bread crumbs
2/3 cup (1.7 oz) finely shredded parmesan cheese
1 tsp Italian seasoning
1 tsp paprika
1 tsp garlic powder
2 Tbsp olive oil
2 lbs. chicken tenders (about 12 larger tenders, more is smaller)
Salt and freshly ground black pepper
1 Tbsp minced fresh parsley (optional)