Pumpkin Scones with Spiced Pumpkin Glaze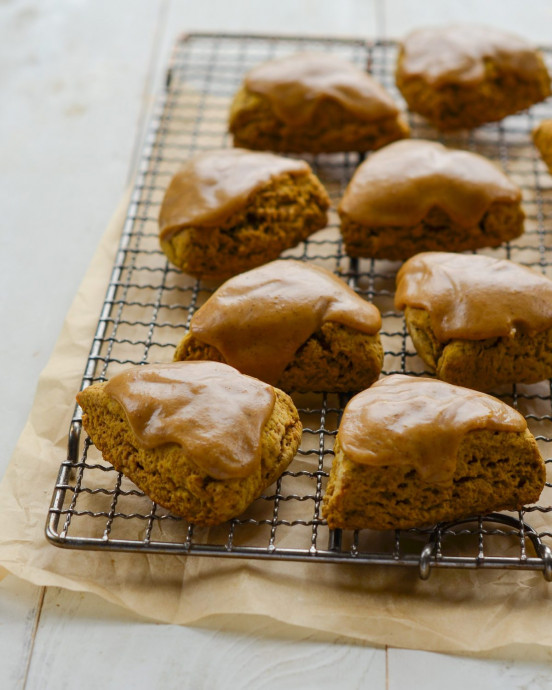 Inspired by Starbucks' famous pumpkin scones (only better, imho), these bronze beauties are packed with pumpkin flavor and lavishly spiced with cinnamon, ginger, cloves, and nutmeg. The addition of molasses and pumpkin makes them more tender than your typical scones – almost like pumpkin bread in scone form.
The spiced pumpkin glaze adds just the right amount of sweetness, as the scones themselves aren't overly sweet, and really drives the pumpkin flavor home.
Don't be intimidated by the long list of ingredients; it's really just a lot of spices, and many of the ingredients are used twice – once in the scones and again in the glaze. If canned pumpkin isn't available where you live, or you'd just prefer to use fresh, that's not a problem. For baking, the most flavorful pumpkins are smaller than those typically associated with Jack-O-Lanterns. They're usually in the 4 to 8-pound range and are referred to as sugar, cooking, or pie pumpkins. This detailed piece from King Arthur Flour provides guidance on how to convert a whole pumpkin into purée that can be used in this cake (or any of my other pumpkin recipes).
Ingredients:
1/2 cup canned pumpkin purée
1 large egg
3 tablespoons heavy cream
1 tablespoon molasses, such as Grandma's Original
2 teaspoons vanilla extract
2 cups all purpose flour, spooned into measuring cup and leveled-off with knife, plus more for dusting
1/4 cup plus 2 tablespoons dark brown sugar
1 teaspoon baking powder
1/2 teaspoon baking soda
1/2 teaspoon salt
1 teaspoon ground cinnamon
3/4 teaspoon ground ginger
3/4 teaspoon ground cloves
1/2 teaspoon ground nutmeg
1 stick (1/2 cup) cold unsalted butter
FOR THE GLAZE
1-1/2 cups Confectioners' sugar
3 tablespoons canned pumpkin purée
1 tablespoon water
1/4 teaspoon ground cinnamon
1/4 teaspoon ground ginger
1/4 teaspoon ground cloves
1/4 teaspoon ground nutmeg