Jamaican Jerk Flank Steak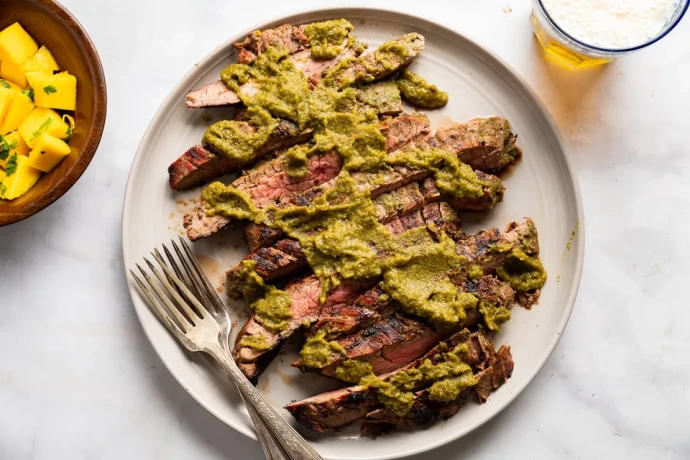 This flank steak recipe incorporates the traditional ingredients of jerk seasoning into a thick, flavorful marinade that works its way deep into the meat.
While the pepper of choice for this recipe is the scotch bonnet, you may use any type of chili pepper available to you. Serve sliced over rice and top with tropical fruit for a delicious Caribbean treat.
Ingredients:
1 flank steak, about 2 pounds/900 grams
1 small onion (chopped)
1/2 cup/120 mL green onion (chopped)
Juice of one lime
1/3 cup/80 mL flat-leaf parsley or 1/4 cup cilantro
2 large chili peppers or 1 small scotch bonnet (seeded and deveined)
2 cloves garlic (minced)
2 tablespoons/30 mL dark rum
2 tablespoons/30 mL fresh thyme
2 tablespoon/30 mL brown sugar
2 tablespoons/30 mL soy sauce
1 tablespoon/15 mL oil
2 teaspoons/10 mL fresh ginger
1 teaspoon/5 mL allspice
1 teaspoon/5 mL black pepper
1/2 teaspoon/2.5 mL cinnamon
1/2 teaspoon/2.5 mL nutmeg
1/2 teaspoon/2.5 mL salt