Butternut Squash Pasta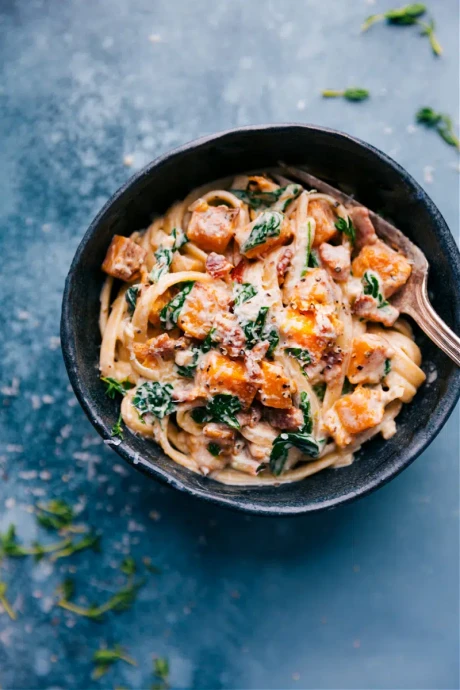 This creamy Butternut Squash Pasta is a comfort food dream! Luxuriously coated creamy fettuccine with tender roasted butternut squash, crisp bacon, and fresh thyme — does pasta get any better than this?!
Nothing screams comfort food like a bowl of luxuriously creamy fettuccine and when you throw in some perfectly caramelized roasted butternut squash, well, you've reached the ultimate type of comfort food. This may just be our new favorite Fall meal and I have a feeling it's going to be on menu very often — even the kiddos couldn't get enough of it!
As with most pasta dishes, this recipe is best enjoyed the minute the sauce is emulsified (this is when all Italian-type pasta dishes taste their best)!
You can certainly store leftovers, but will likely need to add some more heavy cream as you re-heat the pasta to loosen the sauce up again. Leftover pasta will be softer, but still plenty flavorful. Because of the pasta and dairy in this dish, it isn't a great candidate for freezing and thawing.
Ingredients:
Squash
6 cups (1-3/4 lbs; 820g) butternut squash, peel & cut into 1/2-inch cubes (Note 1)
1-1/2 tablespoons olive oil
1/4 teaspoon dried thyme
1 teaspoon Italian seasoning
Fine sea salt & pepper
Pasta
10 oz. fettuccine
4 thick-sliced bacon slices
2 tablespoons unsalted butter
1/2 cup (60g) thinly sliced shallots, optional
1 tablespoon minced garlic
1 cup (210g) low-sodium chicken broth
1-1/4 cups (285g) heavy whipping cream
3/4 cup (43g) freshly grated Parmesan cheese
4 lightly packed cups (100g) baby spinach