Coconut Macaroons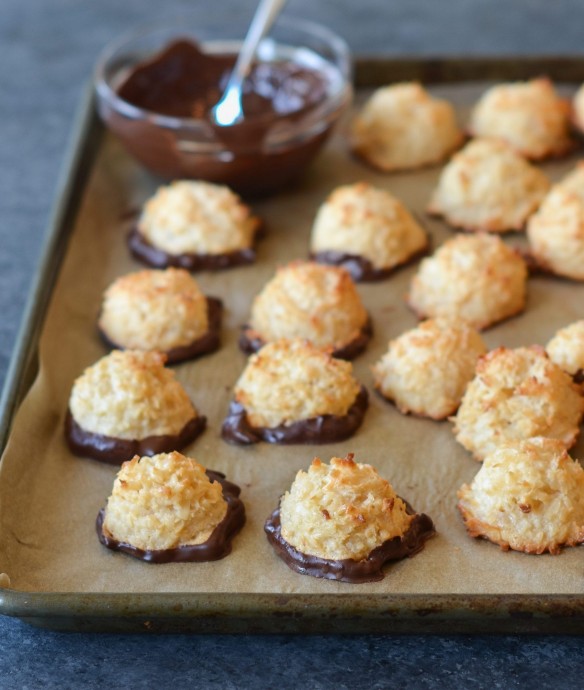 Soft and chewy on the inside, crisp and golden on the outside — these are the perfect coconut macaroons.
As a coconut lover, I've tried dozens of recipes for coconut macaroons recipes over the years — be it for the holidays or for friends who eat gluten-free. These are my favorite. Chewy and moist on the inside, crisp and golden on the outside, they're delicious plain but even more irresistible dipped in dark chocolate. They also keep well for days, making them the perfect treat to bake ahead.
The key ingredient in this recipe is sweetened condensed milk, a canned milk product from which water has been removed and sugar has been added. It's sticky-sweet and makes the best macaroons. Many recipes call for it but, in my experience, they all have the same problem: too much liquid, which causes the sweet batter to pool around the edges of the macaroons and burn in the oven.
This is because recipe developers want to keep their recipes neat and tidy with one whole bag of coconut and one full can of sweetened condensed milk. After all, it's annoying to have leftover sweetened condensed milk; there's not much you can do with it except add it to your coffee. For this recipe, you'll use just shy of one can so you'll have to sacrifice some sweetened condensed milk, but your macaroons will be perfect.
Ingredients:
1 14-oz bag sweetened flaked coconut
7/8 cup sweetened condensed milk (see note below on measurement)
1 teaspoon vanilla extract
2 large eggs whites
1/4 teaspoon salt
4 ounces semi-sweet chocolate, best quality, chopped