Chili Lime Grilled Corn Salad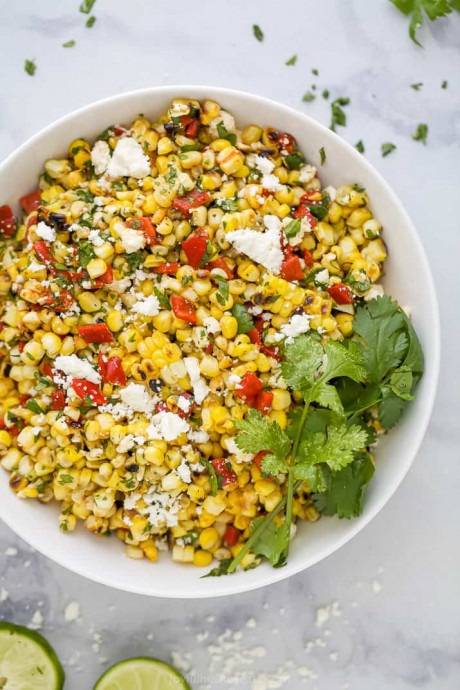 My favorite summer salad recipe, Chili Lime Grilled Corn Salad filled with grilled corn, queso fresco, cilantro, smoky spices, lime, and piquillo peppers for a tex-mex flare. This quick, light vibrant salad comes together in 20 minutes and makes the perfect side.
There is nothing quite like grilled sweet corn in the summer! Growing up in Wisconsin we use to eat this stuff all the time! It was "THE thing" to get at the State Fair. Well, that, and the Cream Puffs.
The only hard thing about corn on the cob is the actual eating process. You know what I'm talking about! Somehow one of those random little kernels manages to wedge its way in between one of your teeth and will not come out. So annoying. I decided to solve that problem with this salad! Chili Lime Grilled Corn Salad, it has all of my favorite Tex-Mex flavors, incredibly light, healthy, and filled with mouthwatering flavor! And…. the corn is OFF the cob. So no more of those pesky kernels getting stuck.
I make this salad at almost every gathering we have during the summer. People absolutely love how light it is and are baffled how I'm able to pack so much flavor into so few ingredients! This salad will be the dish everyone is talking about at your next Summer BBQ. Trust me.
Ingredients:
8 ears of corns, shucked
3 Dellalo Brand roasted piquillo peppers, diced
3/4 cup fresh cilantro, diced
1/2 cup crumbled queso fresco
1/2 teaspoon smoked paprika
1/4 teaspoon chipotle chili powder
1/2 teaspoon sea salt
3–4 tablespoons fresh lime juice (juice of 2 limes)
1 tablespoons olive oil