The Best Chicken Soup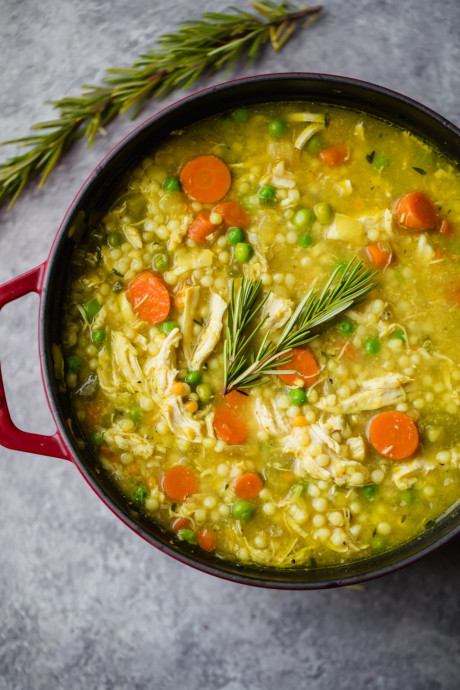 The BEST chicken soup you'll ever eat is the perfect recipe to make when you're feeling sick. Packed with anti-inflammatory ingredients like ginger, turmeric, garlic. The best part isn't just how delicious this chicken soup is, but also how wonderful the anti-inflammatory, cold-fighting ingredients are.
Ginger: Great for digestion and a powerful anti-inflammatory agent to use in recipes. Garlic: Truly the best when you're sick. Garlic is full of anti-bacterial and anti-inflammatory properties. That's why we use 6 cloves of garlic in this soup. That's right, you're going to sick this cold's ass. Turmeric: Super trendy and very good for you. Best when consumed with a black pepper to help for optimal absorption. This recipe calls for fresh turmeric (if you can find it). Chicken: We're packin' this recipe with protein too — and guess what? The chicken actually cooks in the soup broth, leaving it tender and making it easy for you! Fresh herbs: Rosemary & thyme add additional flavor in this recipe. Pearl or Israeli Couscous: Besides the veggies, the couscous is really the star because it helps to thicken the broth and keep the soup hearty. You'll want to use an Israeli or pearl couscous in the recipe. It just provides the perfect texture for the soup. This is what pearl couscous looks like.
Ingredients:
1 tablespoon avocado oil or olive oil
6 cloves of garlic, minced
1 yellow onion, diced
2 large carrots, thinly sliced
2 celery stalks, roughly chopped
1 tablespoon fresh grated ginger
1 tablespoon fresh grated turmeric (or 1 teaspoon ground turmeric)
6 cups low sodium chicken broth
1 pound boneless skinless chicken breast or thighs
1 teaspoon freshly chopped rosemary
1 teaspoon freshly chopped thyme, stems removed
½ teaspoon salt
Freshly ground black pepper
1 cup pearl or Israeli couscous
2/3 cup frozen peas (optional, but recommended)