Chocolate Jack Cake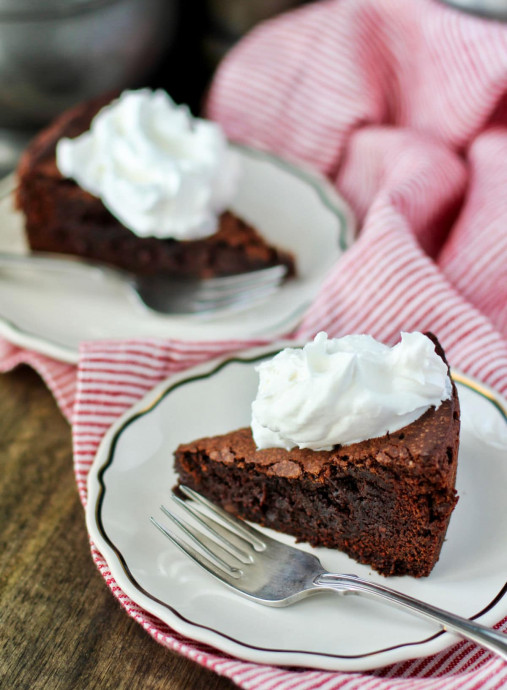 This Chocolate Jack Cake, or Chocolate Whiskey Cake, with both strong coffee and bourbon whiskey in the ingredients, is moist and delicious, like a big round brownie.
This cake is delicious on its own, and even better topped with sweetened whipped cream.
This cake is rich and chocolatey, and spiked with a hint of bourbon whiskey. For the bourbon, I used Maker's Mark, but Jack Daniels or another American bourbon whiskey would work just fine.Key ingredients in this chocolate whiskey cake:
Strong brewed coffee: I mixed some instant espresso powder with boiling water for this ingredient to avoid brewing a pot of coffee.
Unsweetened cocoa: Use natural, not Dutch processed.
Semisweet mini chocolate chips: These will melt right into the cake.
And of course, there's the bourbon. Plus a little bit of black pepper!
Ingredients:
180 grams (1 1/2 cups) all purpose flour
1 teaspoon baking soda
1/2 teaspoon salt
1/4 teaspoon freshly ground black pepper
1/2 cup strong brewed coffee
3 tablespoons bourbon
1 teaspoon pure vanilla extract
99 grams (1/2 cup) granulated sugar
107 grams to 214 grams (1/2 to 1 cup) brown sugar, depending on how "brownie-like" you want your cake to be
60 grams (1/2 cup) unsweetened natural cocoa
7 tablespoons unsalted butter, softened
2 large room temperature eggs
1/2 cup mini semi-sweet chocolate chips
Sweetened whipped cream for topping