Lemongrass Coconut Noodles With Shrimp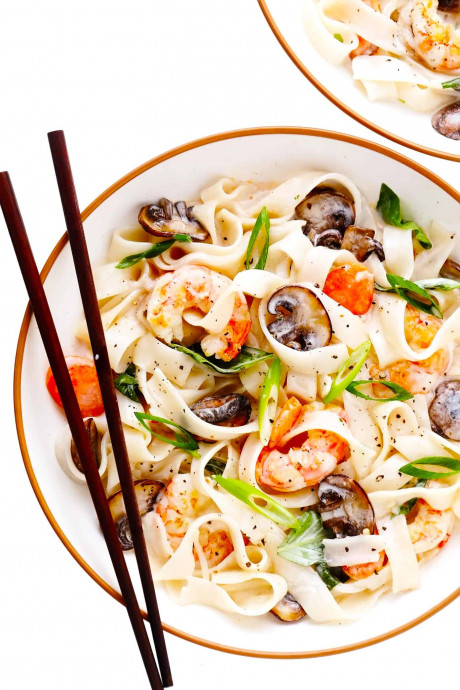 This Thai-inspired noodle stir-fry is tossed with fresh veggies, tender shrimp, and a zesty lemongrass coconut sauce. Easy to make and full the best bright and citrusy flavors!
Fresh lemongrass — with its uniquely citrusy, minty, earthy flavor — is the starring ingredient in this coconut sauce and one that you definitely won't want to skip. So the next time you're at the market, be sure to pick up a few stalks of fresh lemongrass or a tube of lemongrass paste to brighten up that creamy coconut milk sauce. Along with it, we will simmer a generous amount of fresh ginger, the juice of one fresh lime, your desired amount of brown sugar and a splash of fish sauce for extra umami flavor. To be sure, this list of ingredients is notably different than those used in the broth of authentic Thai tom kha gai (which traditionally uses galangal in place of ginger, kaffir limes in place of fresh lime juice, palm sugar in place of brown sugar, etc — any of which I would completely encourage you to sub into this lemongrass coconut sauce recipe if you'd like).
Use different veggies/greens: Feel free to add in any other stir-fry-friendly veggies or greens that might sound good here in place of (or in addition to) the mushrooms or carrots. For example, asparagus, broccoli, bell peppers, snow peas and/or spinach would all be great here.
Ingredients:
9 ounces rice noodles
1 pound large shrimp, peeled and deveined
fine sea salt and freshly-cracked black pepper
3 tablespoons olive oil, divided
8 ounces baby bella or shiitake mushrooms, sliced
1 large carrot, thinly sliced
4 cloves garlic, minced
1 cup (lightly-packed) Thai basil leaves*
garnishes: thinly-sliced green onions, lime wedges, thinly-sliced Thai bird chiles (or crushed red pepper flakes), fresh cilantro and/or extra Thai basil
LEMONGRASS COCONUT SAUCE INGREDIENTS:
2 stalks fresh lemongrass,*
1 (15-ounce) can full-fat coconut milk
2 inches fresh ginger, thinly sliced into long strips
1 tablespoon brown sugar
2 to 4 tablespoons fresh lime juice, to taste
1 tablespoon fish sauce