Unsweetened Instant Pot Applesauce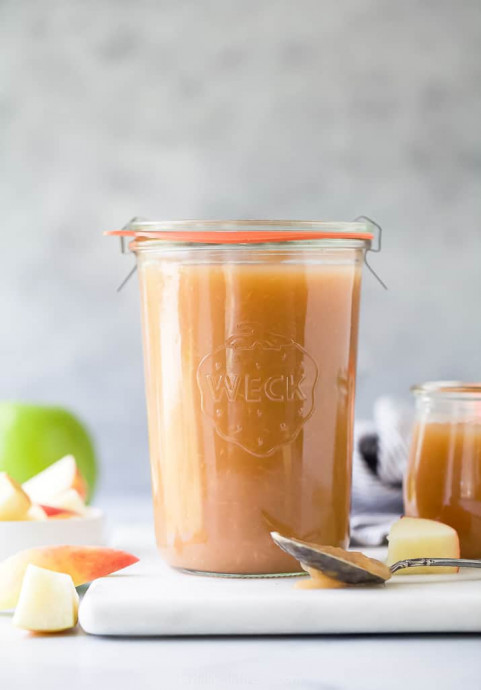 This ultra satisfying Homemade Applesauce is easy to cook in the Instant Pot. You can make it smooth or chunky, tart or sweet – either way, it'll be divine!I've never been too fond of making applesauce on the stove. But I'm a huge fan of the stuff. Can you relate to this dilemma? Well, you no longer have to deal with that pesky Dutch oven recipe! The Instant Pot is about to become your best friend.
This is a super simple, hands-off recipe that can be built upon with ease. I've included instructions for unsweetened applesauce, but you can totally sweeten it up if you'd like! You also have the option of making it smooth or chunky. The choice is yours!
No matter how you like your applesauce, you're bound to love this cooking method. It produces perfect results every time!
You're almost ready to cook up some awesome Instant Pot applesauce. Here are my top tips and tricks for this recipe!
Use the Right Apples: Take caution before you substitute the Honey Crisp or Granny Smith apples for another variety. Some kinds of apples don't handle heat very well. Safer substitutions include McIntosh, Golden Delicious, Gala and Fuji.
Don't Use Bottled Lemon Juice: The best applesauce has the freshest, most authentic flavor. In order to pull that off, I strongly suggest using freshly squeezed lemon juice.
Can You Overcook Applesauce? You certainly can, and it diminishes the flavor. That's another reason why I love this recipe – as long as you follow the directions for the 5-minute pressure cook, you can forget about the risk of overcooking your apples. Phew!
Sweeten it Up: If you'd like to sweeten your Instant Pot applesauce, you can do so by mixing in cinnamon, honey, maple syrup or sugar to taste.
Ingredients:
4 honey crisp apples, cored and cubed (about 1.5 lbs)
4 granny smith apples, cored and cubed (about 1.5 lbs)
1/3 cup water
1–2 tablespoons of lemon juice