Cuban-Style Pollo a la Plancha (Marinated and Griddled Chicken)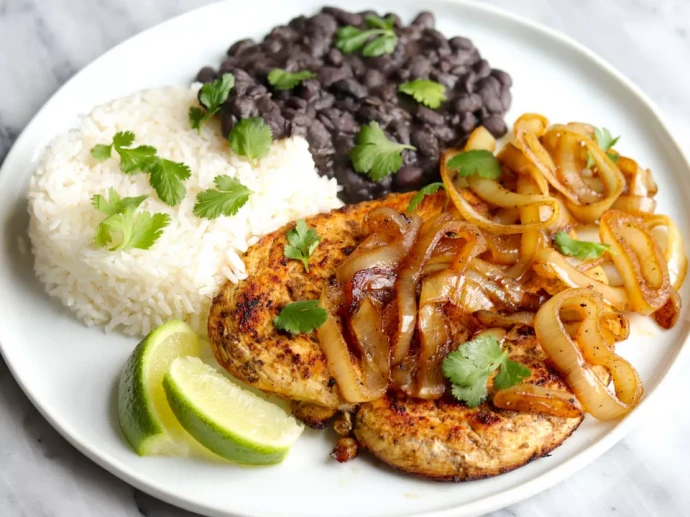 These Cuban-style chicken cutlets are marinated with citrus juices and spices, then seared in a skillet until well browned and juicy. Sautéed onions top them off, and it all comes together quickly and easily.30 minutes is all that's needed for the marinade to flavor the chicken, and that short amount of time also prevents the meat from becoming mushy due to the acidic ingredients.
Using the same skillet to brown the onions as the chicken adds flavor to the onions, since the browned bits left in the pan can be deglazed using the water released by the onions as they begin cooking.
Pollo a la plancha is a classic dish in many Latin American countries. Sometimes also called pechuga a la plancha, thereby denoting the chicken part used (the breast), the dish name translates to chicken cooked on a flat top grill or griddle. The exact preparation seems to vary based on who you ask and which country they're from, but the Cuban version of this dish requires marinating the chicken in Cuban-style adobo or mojo.
Cuba's version of this sauce includes garlic, sour orange juice, cumin, and oregano, and, in the city of Santiago de Cuba, ground allspice. Fresh sour oranges can be hard to come by in the US—though fresh and frozen options are often available at Latin American grocers—but you can use an equal mix of orange and lime juices as a substitute to approximate their flavor. Serve with Cuban black beans and rice for a complete island meal.
Ingredients:
6 medium cloves garlic
1/4 cup (60ml) freshly squeezed orange juice (from about 1 orange)
1/4 cup (60ml) freshly squeezed lime juice (from about 2 limes)
1 1/2 teaspoons ground cumin
1 1/2 teaspoons dried oregano
1 teaspoon freshly ground black pepper
1/2 teaspoon ground allspice (optional)
Kosher salt
4 boneless, skinless chicken breast halves (about 10 ounces; 285g each) or 8 chicken cutlets
1 tablespoon (15ml) neutral oil such as canola or vegetable, plus more as needed
1 large white or yellow onion (about 3/4 pound; 340g); sliced crosswise into 1/4 inch thick rings
Cooked long-grain rice and black beans, for serving
Picked cilantro leaves, for serving
Lime wedges, for serving