Caramel Apple Upside Down Cake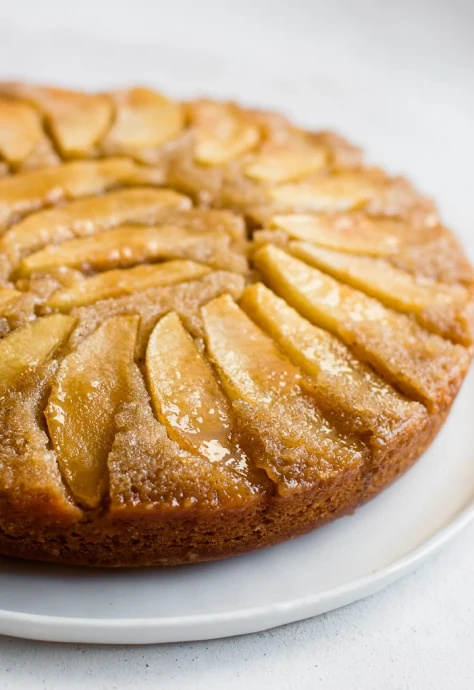 This apple upside down cake is a simple recipe with stunning results! Sticky caramel and apples line the bottom of the pan, only to become the top of the cake once inverted after baking. No extra decorations required!
This caramel apple upside down cake is the latest in my apple addiction. Upside down cakes are some of my favorites to make. They are easy recipes with no special ingredients, yet they come out as showstoppers that wows any dinner guests. The best part is you don't need any extra decoration. Once you invert the cake, the caramel apple layer becomes its own stunning cake topper.
The base of the cake is a soft, tender, buttery cake that is spiced with cinnamon, ginger and nutmeg and optional orange zest. It's a subtle flavor that pairs perfectly with the layer of sweet, sticky caramel and juicy apples.
Now making caramel may sound scary, but I assure you it's nearly impossible to mess up in this apple upside down cake recipe. Even if it's gritty and the sugar hasn't fully dissolved, the baking time in the oven helps smooth things out to make the caramel topping sticky, smooth and perfect.
Ingredients:
Caramel Apple Topping
5 tablespoons (75g) unsalted butter
3/4 cup (150g) light or dark brown sugar
2 apples , peeled, cored, and sliced into 1/4-inch thick wedges
Cake
1 1/2 cups (200g) all-purpose flour
1 teaspoon baking powder
1/4 teaspoon baking soda
1 teaspoon ground cinnamon
1/4 teaspoon ground ginger
1/4 teaspoon ground nutmeg
1/2 cup (1 stick/115g) unsalted butter, softened to room temperature
3/4 cup plus 2 tablespoons (175g) granulated sugar
2 large eggs
1 teaspoon pure vanilla extract
1/2 teaspoon orange zest , optional
2/3 cup (160 ml) sour cream