Keto Chili Cheese Dogs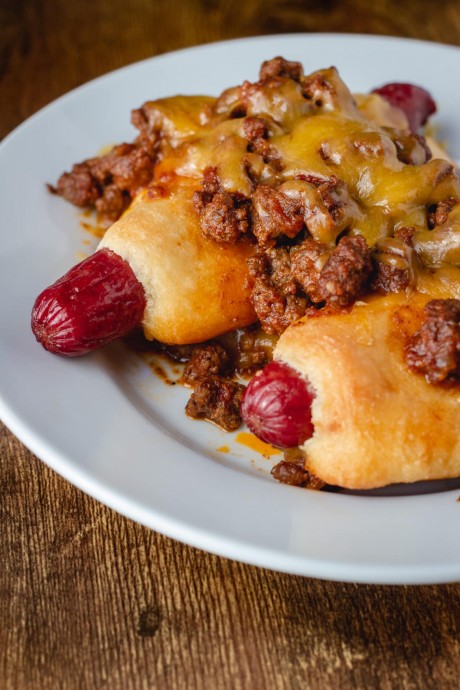 These keto chili cheese dogs are wrapped in Fat Head dough and then slathered with beef chili and melted cheddar cheese. A classic American food, made low carb.
There are plenty of variations on the recipe, but the foundations are the same. It comes out with a really good texture which is why it's so popular and is usually made as a pizza crust. I will say that since it's mostly cheese, it's pretty calorie dense. I don't make it frequently for that reason. It's really filling though, so one of these keto chili cheese dogs would likely tide you over for a long while.
A trick to making these dogs is to keep the dough fairly then and wrapping the hot dogs with a little space between the dough. When it's baked the dough will soften and expand. If you use too much dough on a hot dog, it will become heavy and fall off. Also if there is any moisture on the dog, wipe it off with a paper towel. This ensures the dough sticks and won't slide off. Don't worry if your hot dogs don't come out perfectly. You can always use a bit more chili and no one is the wiser.
Ingredients:
1.5 cups part-skim shredded mozzarella cheese
1 ounce full-fat cream cheese
3/4 cup blanched almond flour
1/4 tsp salt
1 large egg beaten
1 package sugar free hot dogs
pre-made chili
1 oz cheddar cheese shredded