Saffron Lemon Chicken With Persian Rice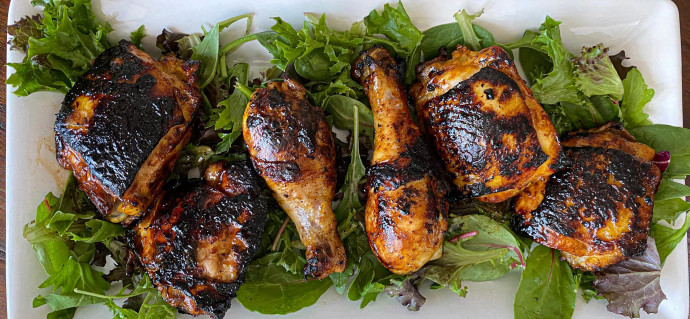 Lots of saffron going on right now in my kitchen lately and I love it! It all started with wanting to make my friend Persian saffron rice, and from there a new recipe was born.
We have not had chicken in a while and as I was perusing some old magazines from this summer, grilling was all over the pages. As you may have noticed I do not grill often but this created the need in me to marinate some chicken and cook it over very high heat to give it that wonderful charred feel and look. My version of grilling inside.
Seeing that I was going to make the saffron rice, it just was in order to add saffron to the chicken as well. Because the saffron is slightly bitter, the sweetness of the honey is the perfect pairing. You can serve this rice with chicken as I have here, or lamb, Mediterranean stews, and fish.
Ingredients:
FOR THE CHICKEN
2 tablespoons butter
1 clove of garlic grated
1 large pinch of saffron
2 tablespoons honey
1 lemon juiced
6 chicken thighs and drumsticks mix, skin on
1 tablespoon olive oil
FOR THE SAFFRON RICE
¾ cup of long grain Basmati rice
2 cups onion chopped
⅓ cup dried cranberries, chopped
¼ cup almond, chopped
½ cup pitted dates, chopped
2 tablespoons olive oil
1 tablespoon butter
1 teaspoon of saffron strands
2 tablespoons olive oil
6 tablespoons butter
salt and pepper