Cheddar Bacon Ranch Potato Salad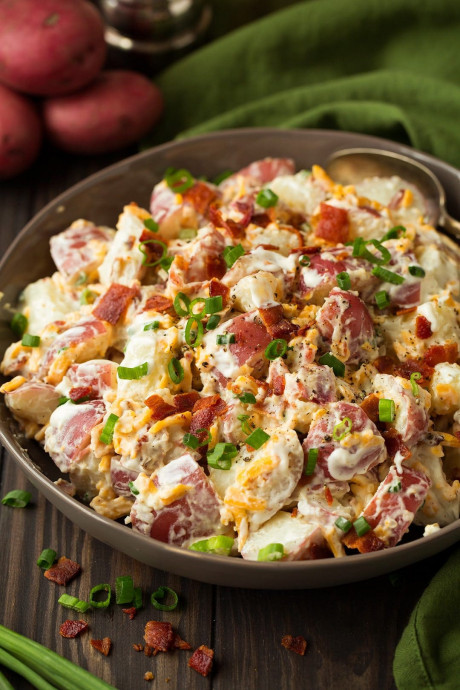 Every now and then, I love to splurge a little and have something deliciously satisfying and perfectly comforting, like this simple and hearty Cheddar Bacon Ranch Potato Salad!
This potato salad only takes 5 ingredients — red potatoes, cheddar cheese, salty crispy bacon, creamy ranch dressing and sliced green onions. What's not to love there? Yeah, this is a side dish you'll have on repeat especially during these warmer months ahead.
What makes this potato salad with bacon easy to make and why it calls for so few ingredients is because instead of a homemade potato salad dressing, it's made with a bottle of ranch dressing. I know, normally I'm all about making things from scratch but sometimes when I find a good product, I love a good shortcut.
Instead it's made with real ingredients like buttermilk, garlic, onion, herbs and spices and I like it better than the original! It has a delicious flavor and of course that same classic velvety smooth creamy texture.
Don't miss out on trying the ranch with this loaded potato salad recipe, it's the perfect spring and summer side dish! You can't go wrong with that bacon cheddar ranch flavor combo.
Ingredients:
2 lbs petite red potatoes, diced into bite size chunks (about 1-inch)
2/3 cup Ranch Dressing
1 cup shredded cheddar cheese (I used medium)
6 slices bacon, cooked and crumbled (about 1/2 cup)
1/3 cup chopped green onions
Salt and pepper (optional)