Chicken Piccata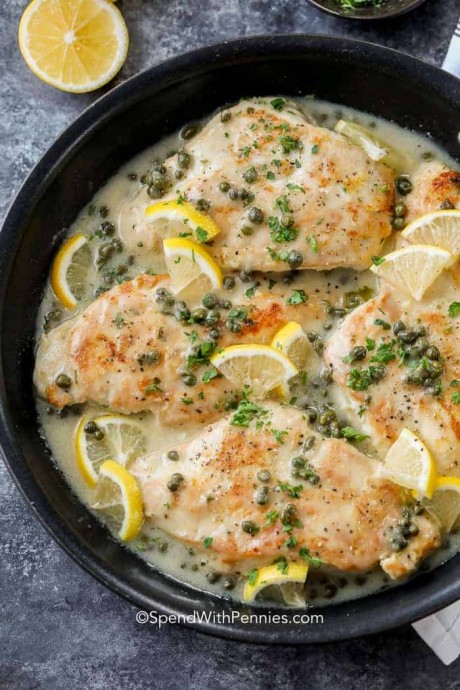 Chicken Piccata is a dish that features meat pounded thin and topped with a buttery lemon caper sauce. Tender chicken breasts are dredged in a lemon pepper flour and seared until golden. The chicken is then simmered in a fresh lemon caper white wine sauce. Serve this easy (yet seemingly fancy) dish over pasta or mashed potatoes to impress your family and friends! It also goes great with oven-roasted potatoes and a side of baked zucchini or steamed broccoli!
The meat is dredged in flour then added to a easy piccata sauce made from lemon and white wine that is packed full of full of capers, butter, and other delicious ingredients.
The sauce is reduced to bring out the best flavors from the broth, white wine, butter, and capers. It creates a light but silky sauce with a flavor punch you won't be able to resist! If you've got leftovers, piccata can be reheated in the microwave or placed in a small pan with a lid and cooked on low until heated through.
Ingredients:
4 chicken breasts pounded to about 1/2 inch thick or cut in half crosswise
1/2 cup flour
1 lemon zested
2 tablespoons olive oil more as needed
salt & pepper to taste
1/4 cup butter
1 1/2 tablespoons flour
1 cup chicken broth
1/2 lemon juiced (about 1 1/2 tablespoons)
1/2 cup white wine or chicken stock
3 tablespoons capers drained
2 tablespoons fresh parsley chopped