Sweet Potato Casserole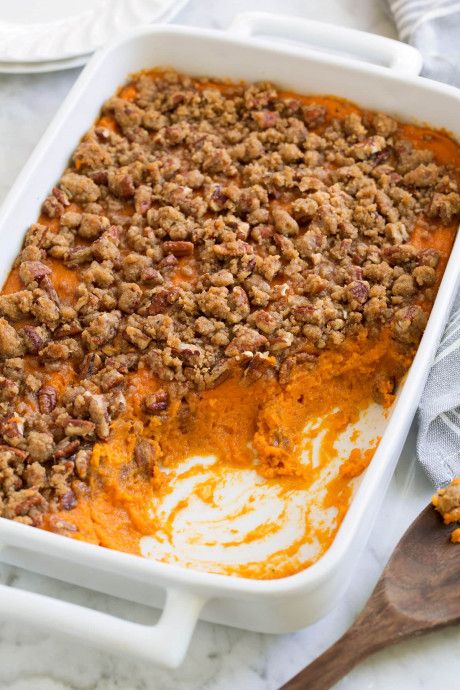 The Best Sweet Potato Casserole recipe! It has just the right amount of sweetness, an irresistible buttery flavor, and a crisp cinnamon pecan crumble on top. It's the perfect autumn side dish and a Thanksgiving staple. Everyone will want the recipe!
Is it a dessert or is it a side dish? I think we like to label it as a side dish so we still can have a second dessert later :).
This is my new favorite sweet potato casserole! It's not overly sweet and I'm addicted to that crisp, cinnamon crumble topping.
The those marshmallow toppings are good but this pecan variation is even better! I just love every last thing about it. Trust me, it's going to disappear in no time!
Ingredients:
4 lbs sweet potatoes*
1/2 cup (110g) packed light-brown sugar
1/2 cup (113g) unsalted butter, melted
1/2 cup milk (anything but skim)
2 large eggs
1 tsp vanilla extract
Salt and freshly ground black pepper
Topping
1/2 cup (70g) all-purpose flour (scoop and level to measure)
1/2 cup (110g) packed light brown sugar
1/2 tsp ground cinnamon
1 cup chopped or broken pecans
1/4 cup (57g) unsalted butter, melted