Slow Cooker Turkey Breast and Gravy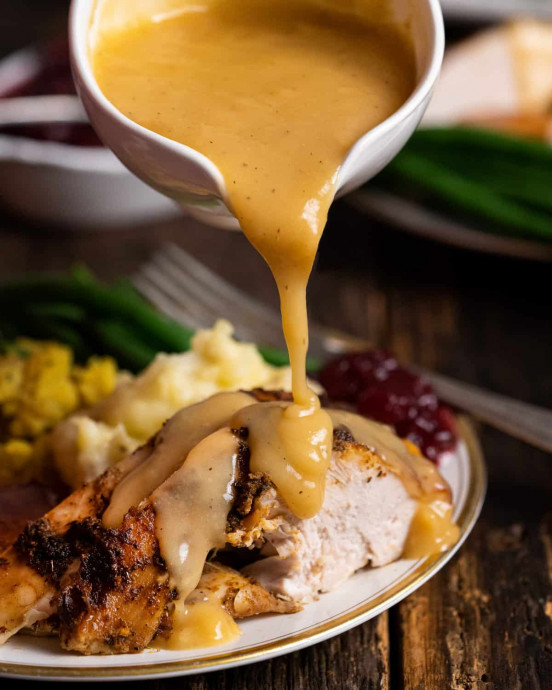 Perfectly moist and tender bone-in turkey breast, made easily in the slow cooker! Great to free up your oven for side dishes, and the perfect size for a smaller family Thanksgiving. Enjoy a more stress-free holiday!
This recipe takes the ease of cooking a turkey breast to a whole new level by cooking it in the slow cooker. The slow, gentle heat makes this a pretty forgiving recipe, and makes for a moist, not dry, turkey.
Leaving your oven free for all the other holiday side dishes, and knocking the main course out of the park with flavor and tenderness? Sounds like a great holiday meal to me!
When you look at the recipe, you'll see there is no liquid added to the slow cooker. There's an old myth that cooking meat in a slow cooker without liquid is bad. While it's a good rule of thumb to add liquid in some recipes, foods that create their own juices as they cook, do not need liquid. The turkey breast essentially bastes itself and steams in it's own juices.
Ingredients:
Turkey/Slow Cooker
4 lb bone-in, skin-on turkey breast
1 large yellow onion peeled and cut in half
1 head garlic extra paper skins removed, then cut in half horizontally
2 lemons sliced in half lengthwise
3 sprigs fresh thyme
3 sprigs fresh rosemary
Seasoning rub/paste
1 Tbsp packed light brown sugar
1 1/2 tsp smoked paprika
3/4 tsp garlic powder
3/4 tsp kosher salt
1/2 tsp black pepper
1/2 tsp onion powder
1/2 tsp dried thyme
1/4 tsp ground cumin
2 Tbsp vegetable or olive oil
Gravy
1/4 cup unsalted butter
1/4 cup all purpose flour
2 cups cooking liquid from bottom of slow cooker
1/2 tsp kosher salt
1/2 tsp black pepper
1 Tbsp cold unsalted butter