Apple Tart With Hazelnut Frangipane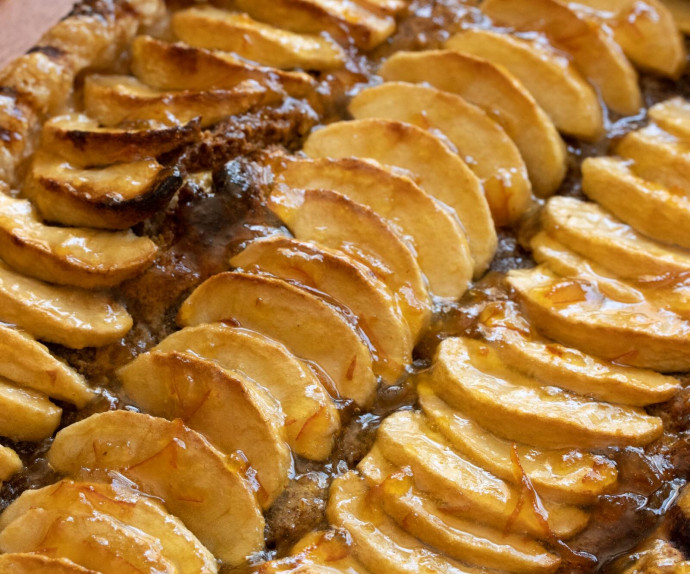 In essence, frangipane is an almond filling, almost like a thick cream. Not to be confused with marzipan, which is an almonds sugar paste that is so dense and used to decorate cakes.
Frangipane is a mixture of butter, eggs, ground almonds, sugar. Not as attractive in color, but super savory with all your baking tarts.
The quintessential French apple tart. Flaky, soft, tender, and full of flavor. Love with each bite. Plain-cut apples with a hint of sugar and butter baked to perfection. Or, Tarte de Pommes a la Normande, which has a velvety custard made of eggs and heavy cream with sugar.
And here is another version with hazelnut frangipane on a flaky pastry. Fresh hazelnuts that are roasted, then ground into fine pieces with sugar, butter, and egg. And I must say it is wonderful.
Do not be concerned if the bottom on the sides gets a bit burnt, that is a normal process of the juices of the apple and the frangipane.
However, do create a pattern with your apples. Here, I have two rows going in one direction, and one in the opposite. Be creative and put your flair to this apple tart.
Ingredients:
FOR THE FRANGIPANE
1 cup shelled hazelnuts
¼ cup sugar
1 egg
1 tablespoon sweet butter
½ teaspoon vanilla extract
FOR THE TART
1 Pepperidge Farm puff pastry
4 Gala apples, peeled, cores removed, and sliced in ½ inch thickness
3 tablespoons sugar
2 tablespoons sweet butter
1 cup Orange marmalade or jam
2 tablespoons Calvados