Cranberry Orange Scones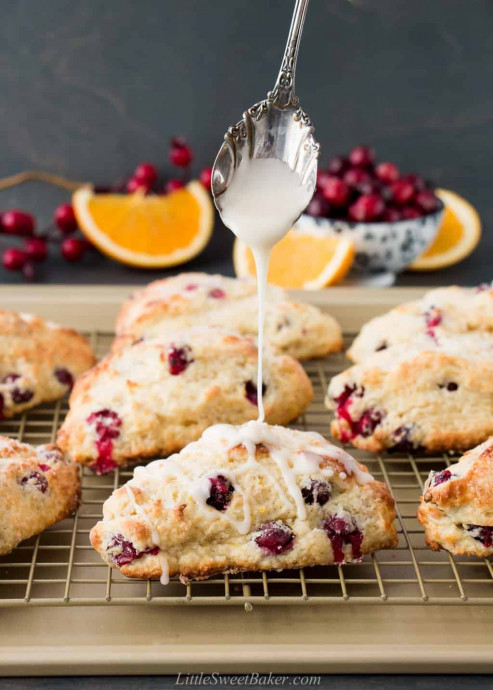 These cranberry orange scones are studded with fresh, tart cranberries and packed with a zesty orange flavor. They are moist and buttery and topped with a sweet orange-vanilla glaze. This easy-breezy recipe is guaranteed to become a favorite for the holidays!
Why this recipe is so great:
Easy to make – All you have to do with this no-fuss recipe is mix, knead, chill, and bake!
Amazing texture – These scones are soft and flaky on the inside, crunchy on the outside, and moist. There are absolutely no dry scones here.
Superb taste – The taste is buttery with a fresh orange flavor and bursts of tart cranberries. It finishes with a sweet-creamy glaze to balance all the flavors.
Can be made in advance – You can prepare the dough the night before, cover and store in the fridge overnight, and bake fresh in the morning for breakfast or brunch.
Ingredients:
Scones
2 1/2 cups (315g) all-purpose flour, plus more for work surface and kneading
1/2 cup (100g) granulated sugar
1 tbsp baking powder
1/2 tsp salt
1 1/2 cups (125g) fresh or frozen cranberries (see notes below if using frozen)
½ cup (114g) cold unsalted butter, cubed
⅔ cup (167ml) cold buttermilk
1 large egg
1 tbsp orange zest
Topping
1 tbsp buttermilk for brushing
1 tbsp coarse sugar for sprinkling
Glaze
1 cup (125g) powdered sugar
1/4 tsp vanilla extract
1–2 tbsp freshly squeezed orange juice