Radicchio Caesar Salad with Toasted Garlic Panko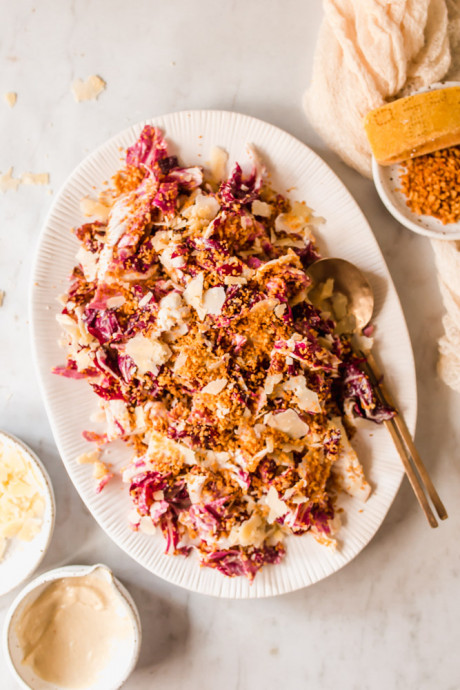 This Radicchio Caesar Salad with Toasted Garlic Panko is far from your average Caesar salad recipe! Tossed in a homemade Caesar dressing, shaved parmesan, and toasted garlic panko breadcrumbs, every bite of this simple salad is packed with flavor.
Making a salad with radicchio means every bite will have strong flavors and a slight bitterness. This is complemented by the creamy homemade Caesar salad dressing and crunchy, buttery toasted panko breadcrumbs. It's a surprisingly simple salad with bold flavors!
Each element of this radicchio salad recipe can be prepared ahead of time, meaning you can stress less and focus on the main event. It goes so well with more fresh Mediterranean recipes, like Garlic Grilled Shrimp and Steamed Artichokes!
Ingredients:
Radicchio Salad
1 head radicchio large, cored and cut into quarters
½ cup Parmesan cheese freshly shaved or more to taste
Classic Homemade Caesar Dressing
⅓ cup mayonnaise
¼ cup Parmesan cheese freshly grated
1 clove garlic
½ large lemon juiced
1 ½ tsp Dijon mustard
½ tsp salt
1-2 anchovies fillet or 1 1/2 tsp anchovy paste
Toasted Garlic Panko
¾ cup gluten-free panko
1 teaspoon garlic powder
2 tablespoons unsalted butter