Cilantro Lime Chicken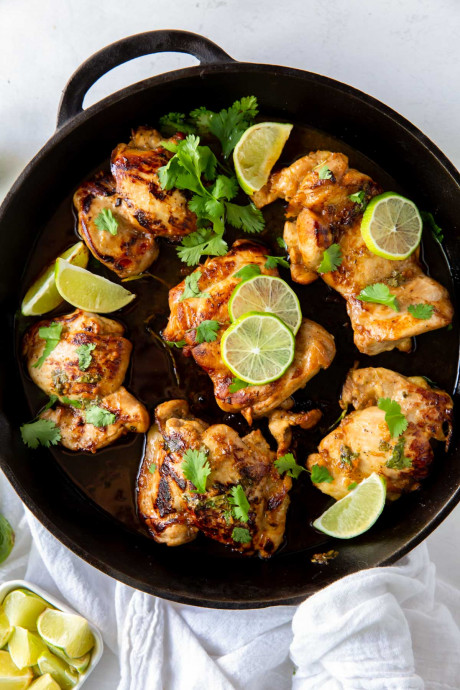 This flavorful Cilantro Lime Chicken is one of the best chicken thigh recipes! The chicken is seasoned with a delicious marinade and then cooked in a skillet until caramelized and juicy. A quick and easy dinner idea, made with boneless or bone-in chicken thighs.
This cilantro lime chicken has livened up our dinner plates! With a flavor-packed marinade and quick skillet cooking method, this easy chicken recipe is perfect for any day of the week!
The cilantro lime marinade used on these chicken thighs is a new favorite of mine. It's simple to make with just a few ingredients, and it infuses chicken with the best flavor!
Using chicken thighs in this recipe ensures that the chicken cooks up juicy and tender. I've cooked this chicken in a cast iron skillet, which gives it a delicious caramelized crust and makes this recipe one you can make year-round. We've also used this marinade on Grilled Chicken Thighs, and it works perfect that way too.
Ingredients:
¼ cup olive oil
¼ cup chopped fresh cilantro
zest of 2 limes (zest before juicing)
¼ cup lime juice (from 2 limes)
2 tablespoons low sodium soy sauce
2 tablespoons honey (or brown sugar)
4 cloves garlic (minced)
½ teaspoon salt
¼ teaspoon black pepper
1 ½ pounds boneless, skinless chicken thighs (about 6 thighs)
2 teaspoons olive oil (for cooking)