Crispy Baked Chicken Nuggets for Kids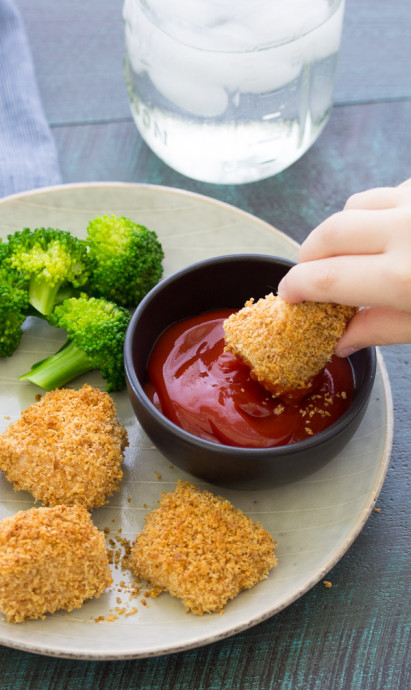 An easy recipe for how to make crispy baked chicken nuggets for kids! This recipe is both egg free and dairy free. Your kids will love these healthy homemade chicken nuggets! They are freezer friendly, so make ahead a big batch for meal prep!
You only need five ingredients to make these crispy baked chicken nuggets. And three of those five are salt, pepper and water.
This is my simplest recipe for making homemade chicken nuggets. If you're looking for a basic chicken nugget recipe to please picky kids, this is it.
These baked chicken nuggets are much healthier than those that you might find in the frozen foods section at the grocery store. Since they're baked, not fried, these are also healthier than most restaurant chicken nuggets. Since you make them yourself, you can feel good about serving your kids homemade chicken nuggets made with only real, recognizable ingredients: chicken, breadcrumbs, salt, pepper and water.
These chicken nuggets are a great lunch or dinner for kids. Serve them with a fruit and vegetable for a balanced meal. Add in something for dipping – my girls prefer ketchup and my son likes his nuggets plain. I love chicken nuggets with a delicious honey mustard sauce, bbq sauce or marinara sauce for dipping.
Ingredients:
1 pound boneless skinless chicken breasts or tenders (cut into 1 ½-inch pieces)
¾ cup whole wheat breadcrumbs (see note)
scant ¼ teaspoon salt
¼ teaspoon pepper
½ cup water