Russian Pelmeni Meat Dumplings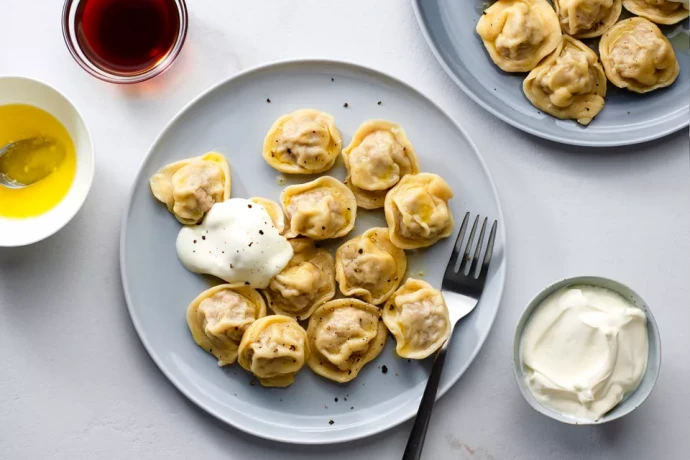 A quintessential Russian comfort food, pelmeni are meat dumplings traditionally filled with ground beef, pork, and sometimes lamb. They are then served with red wine vinegar, black pepper, and melted butter. Mushroom, sauerkraut, and vegetable fillings are also common in certain regions of Russia. The word "pelmeni" describes the ear-shaped appearance of these dumplings, similar to Polish uszka, ("little ears,"), a smaller version of Polish pierogi.
The dough and filling can be made ahead and the dumplings can be assembled and cooked the next day. Using a pelmeni mold instead of forming the dumplings by hand is also a way to speed up the process.
The pelmeni dumplings were delicious, and the meat mixture was perfectly seasoned. I filled and shaped them by hand, which took some time, but it was well worth it! A pelmeni mold would shorten the prep time and be a good option if you plan to make pelmeni frequently
Ingredients:
For the Dough:
2 large eggs, room temperature
2/3 cup tepid water
1 tablespoon vegetable oil
1/2 teaspoon kosher salt
3 1/4 cups (460 grams) all-purpose flour, divided, plus more for dusting
For the Filling:
1 large onion, finely grated
8 ounces ground lean pork
8 ounces ground beef chuck
1 1/2 teaspoons kosher salt
1/2 teaspoon freshly ground black pepper, plus more for serving
For Serving:
Melted butter
Red wine vinegar
Sour cream