Keto Breakfast: Avocado Matcha Smoothie Bowl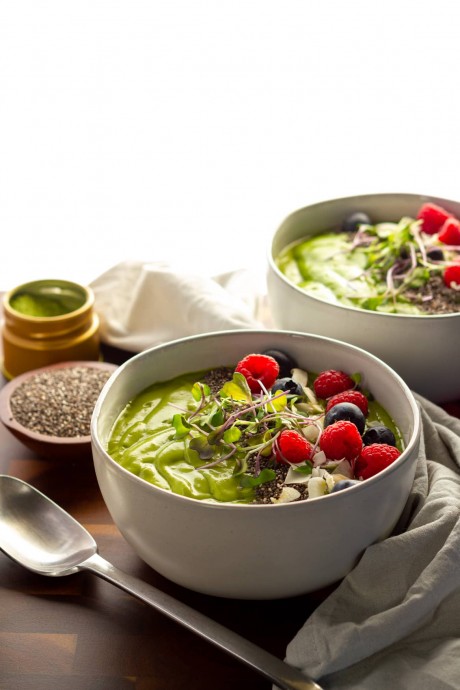 A quick and refreshing keto avocado matcha smoothie bowl with plenty of healthy fats and antioxidants for a balanced ketogenic breakfast option.
Smoothies aren't exactly the first thing that comes to mind on a ketogenic diet. They are often high in sugars and fructose which will throw you out of ketosis quite quickly. That's why this smoothie bowl focuses on healthy fats to keep you full while also keeping the carbs down. Made with fresh spinach, kale, avocado, matcha green tea, coconut milk and a little sweetener, it's a fresh and healthy start to your day.
We all know the delicious avocado and probably already use it in lots of different meals. It's loaded with heart healthy monounsaturated fatty acids, the majority being oleic acid, which reduces inflammation and has cancer fighting properties.
A keto bowl isn't just about fats though. It's important to get your greens in as well, which is why I've used baby spinach and kale as a base for this smoothie bowl. The greens have a mild flavor profile, so when combined with avocado, coconut milk and a little sweetener, the flavor is actually quite balanced. Raspberries, blueberries, strawberries are all great sweet additions. I also love adding coconut chips and chia seeds for some additional texture and crunch to the bowl.
Ingredients:
1 large Avocado
2 cups Baby Spinach & Kale
1 ½ cups Unsweetened Coconut Milk
½ cup Powdered Erythritol (optional)
1 tbsp MCT Oil (or Olive Oil)
1 tbsp Matcha Powder
½ cup ice